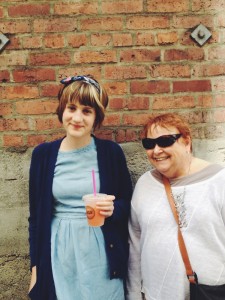 That lovely girl in the photo with me is my lovely granddaughter, Mia. Those who have been following my blog for low these many years know that we moved to Portland 8 years ago when she was just finishing Kindergarden. And, just like that, she is taller than me and graduated from Junior High. Her gift from me was a trip to Seattle on the train and a night in a posh hotel.
We took the trip last Friday and Saturday. Prior to that, I was busy with meetings — Guild board on Monday, finishing quilts to turn in to High Fiber Diet on Tuesday and SAQA at Terry Grant's home on Wednesday. It was a busy week.
Early on Thursday, I met Mia and Steph at the Portland Union Station to board our train to Seattle. I love trains and train travel. This is the ceiling of the Union 'Station.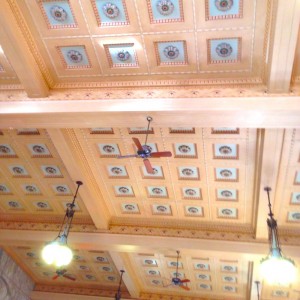 By lunch time, we were in Seattle at the King Street Station.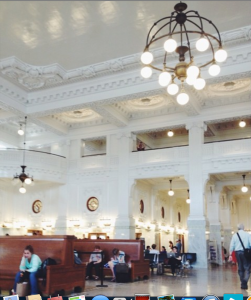 We packed very lightly so that we could carry our stuff easily until we got to the Hotel Sorrento which is way up on First Hill – nine blocks up from the touristy area of the city. The station is near Pioneer Square, a lovely older area of Seattle with lots of galleries and parks. Steph knew of a restaurant there that she wanted to try — London Plane. The food was quite avant garde and very delicious. They also had a lovely selection of things for the stylish home.
I had to really hustle to keep up with my ectomorph daughter and granddaughter.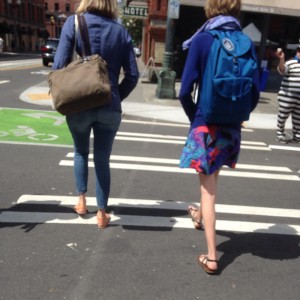 After stopping in a few shops, chosen by Miss Mia, we actually walked up to our hotel, stopping to rest at the beautifully designed Seattle Library.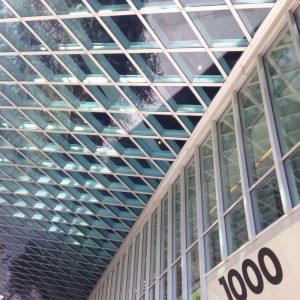 The room was magically ready and so we were able to get settled. Mia loved the big king size bed so much that I thought we might never get her out of the room.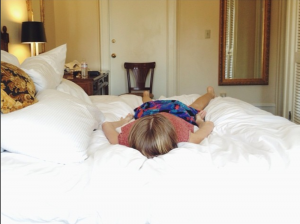 I slept in the sitting room on a pull out bed which they made up for me with a ton of pillows and comforter.
I always love going to Seattle to discover new things. On this trip, we found out about this small park which has a waterfall.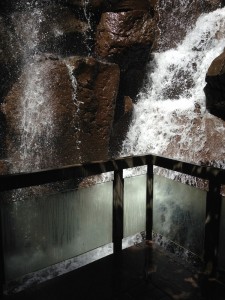 Steph caught me Instagramming.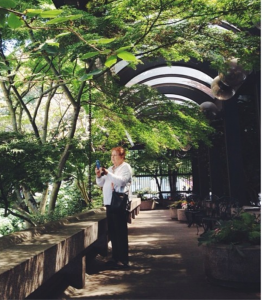 I love the variety of architecture.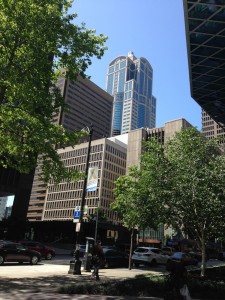 We loved the small Finnish shop near Pike Place. They had a beautiful assortment of Marimekko fabric.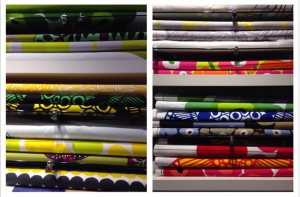 I took this shot of Mia on the train, coming home. I can't believe how grown up and beautiful she is. In the fall, she is going to St Mary's Acadamy – a highschool for girls.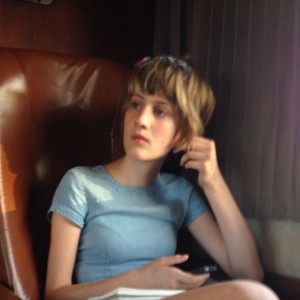 We saw the start of the sun setting as we arrived back in Oregon.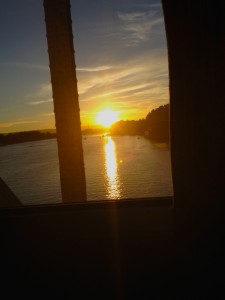 Don't forget to check out the Monday Creative Blog Tours for Helen Conway and Susan Lenz.