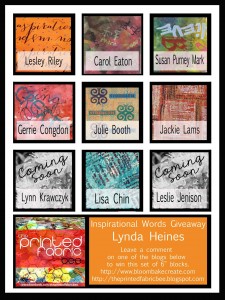 We took a month off for the summer and now, we are back with the August fabric selection. Queen Bee, Lynda Haines, asked for 8 X 18 inch prayer flag size with inspirational words.To have a chance to win the fabric pack of 6 inch samples, you can leave a comment on Lynda's blog or the Fabric Bee blog:
In my last blog, I showed some of the testing of ideas that I had. I decided to do the syringe writing in the background. Then I chose a quote from Joseph Campbell to print with my new block print alphabet. I embellished with the wax crayons, using one of the decorative wood blocks. You can click on the image to see it larger.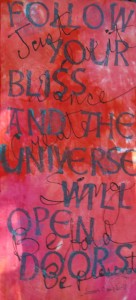 Here is the little piece I did for the giveaway.
I am home and tired from our week away to celebrate our 50th. I hope to get a blog post up tomorrow about our happy week.