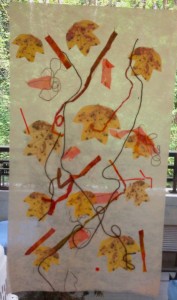 I am in the process of creating my piece for the outdoor exhibit. I am creating four panels which will be stitched together to form a 3D piece with steel rods in each corner that will be stuck in to the soil. Remember the first piece I did which I titled Taking Leaf of My Seasons? You can see it here. I removed all those leaves and remade it. You can see that one here. For some reason, when I took those leaves off the first quilt, I put them in a paper bag and hung on to them. When I was thinking about what I wanted to do for the outside exhibit. I knew I wanted to 4 panels and making a seasonal piece seemed to be the way to go. So, I am upcycling these babies.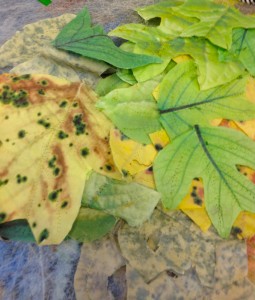 I  put misty fuse on half of a two yard piece of lutradur. Then I placed leaves and ephemera with the leaves and fused the whole thing together. Next, I may fuse a few more pieces of ephemera to the outside of each panel. Then I am going to stitch them and give them a coat of Golden matte medium. The piece at the top is the fall leaves. Here is winter: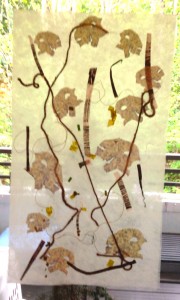 Spring: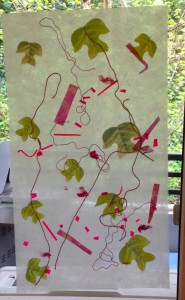 And summer: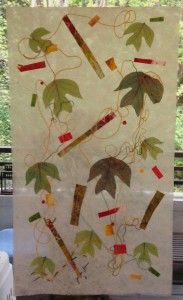 I am happy to report that Lisa and Clay have found their forever home, here in Portland. They will not be able to move in until June 21. After 4 offers that were refused, needless to say, they are very happy.