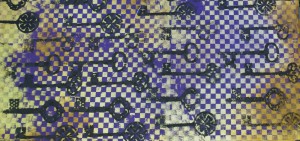 Lynn Krawczyk was queen bee for the month of June and chose the theme, vintage. Oops. another challenge for me. I looked at a lot of vintage clip art and I really liked some vintage keys that I found. So, I made a thermofax screen.
Off to the studio, I found a piece of hand-dyed cotton that had a bit of purple and dark and light yellows and had an aged look to it. I searched through my thermofax screens and found this check pattern which I thought could look vintage. I used a purple paint and screened it on to the fabric.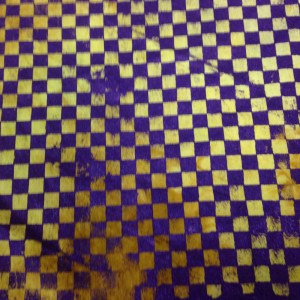 I did some experimenting with printing the keys over the checks.  I used black for the keys. Lynn wanted any color but pink. In this photo, you can get a better idea of what the base fabric was.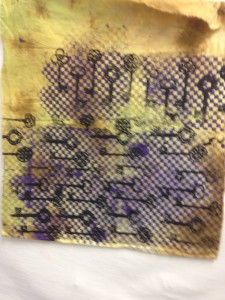 I tried to make the printing look worn and not crisp so that it would look old. It was bloody hot in my studio, so I did not linger.
Here is the collage of the vintage collection. Click to see a larger version.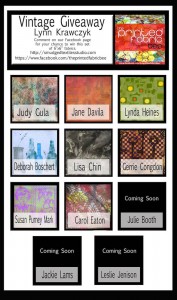 Leave a comment on the Printed Fabric Bee Blog (you might have to wait for Lynn's post) and/or on Lynn's Blog for a chance to receive the collection. Deadline is July 10.
Check out the member's blogs for their contributions.