After getting 3 quilts done and photographed, sewing facings, making labels and travel bags, I had to take some time to breath.  Here is the travel bag that I made for the finished Glacier National Park piece which is 24 inches square. It would not roll easily so this is a great way to send out into the world. The plastic sleeve has a photo and identification information.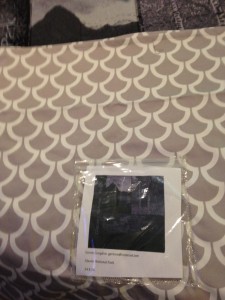 Yesterday, I cleaned up the sewing room which was a bit of a disaster. Lisa and Clay called and wanted to come and hang out and have dinner with us. I love to have them stop by.
Today, I headed to the studio to get some work done. I got the July Printed Fabric Piece done – the theme is insects. I will post photos at the end of the month.
I am behind on my Master Class homework for this month. The theme is rhythm. I need to do a little work on my sketch. I want to do some layering with silk organza and silk charmeuse so I painted some organza to use. Here it is still wet.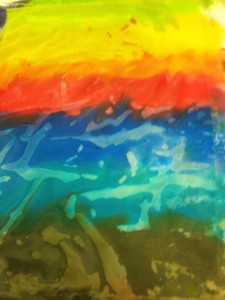 It has been nice to have a few days without looming deadlines.