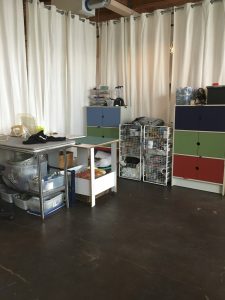 Here is my corner of the new studio. There is space for me to work on the cutting table and then my print and ironing table is closest in this photo. My paint caddy is to the left of my work space. There is a utility sink for us to use in the common area.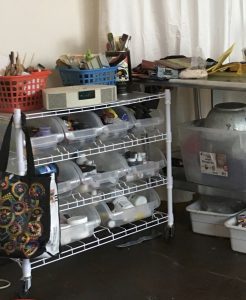 I should explain how this space is set up. We are sub-letting the ground floor of a live/work space. The upper two floors, which would normally be the living space, are occupied by a group of women who make wedding gowns and do other wedding related activities.
Our space had to be sectioned off from the entry area and a room where they meet with brides and their entourage. We contemplated having walls built which would have included a design wall for me. That proved to be expensive and would have a big time lag. So, instead we hung off white draperies from poles that hang from the ceiling. Lisa needed the wall space for her paintings. She rented this space to do her fine art painting. Here is the space showing her work in progress. My space is just to the right of where I was standing when I took the photo. You can click on photos to see larger versions.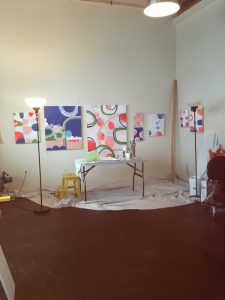 There is a wall of windows which limits wall space but gives nice daylight. Lisa works in this area, too.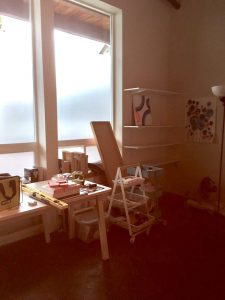 Mr C took some of the shelves from my old studio and put them up for Lisa to have for storage.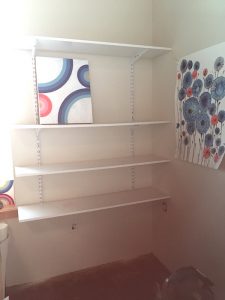 The actual footprint for my studio stuff is smaller, but it is a big room where I can breathe and move things out when I need more space. We are going to make a portable design wall with insulation and pvc pipe that will be double sided and can be moved easily.
I always had a problem with parking in my old studio. I have never had a problem here. It also has air conditioning for the summer. I love that there are other creatives coming and going.
Today, I finished an old project as my first project in the new space. I used some deColourant Plus which is discharge paste with color added.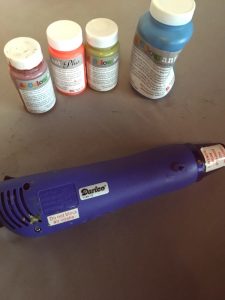 I started this t-shirt a while ago as a demo that I did for a guild group. Today, I added color to the rest of the letters which is freezer paper ironed on to the shirt.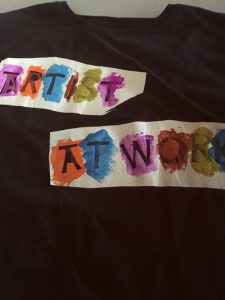 This is not a very good photo, but you get the idea.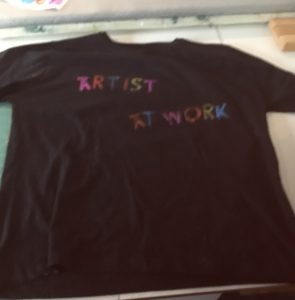 So, I am gearing up to get some work done.