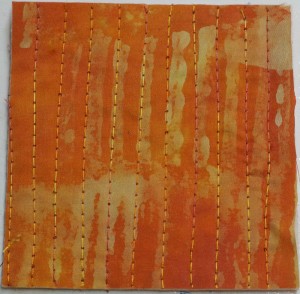 This is a piece of orange silk which was discharged with corrugated cardboard.
I picked up Kerr mid-day and brought her back to our home. I made us grilled eggplant and portobello mushroom and fresh mozzarella sandwiches (yum). Nancy Dasenbrock, the guild workshop chair, stopped by and chatted with us for a bit.
Then it was down to my studio to mix up print paste to check the consistency and amount of alginate needed for our water. After some well-deserved resting, we took Scooter to the Rhodie Garden.
After dinner, back to the dye kitchen to mix up more print paste and dye mixed with print paste. I got my fabric for the workshop soda ash soaked, and it is hanging to dry.
I am having such a good time with Kerr. She is an extremely easy person to be around — so much to chat about.
She says she has about 3 hours of work in the morning, preparing more stuff for the class. We are going to try to get to the Japanese Garden in the afternoon. Tomorrow night, she does her lecture. Busy times!