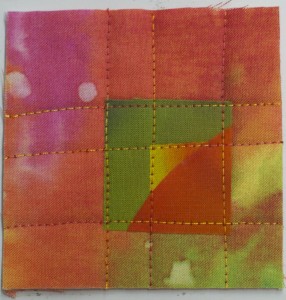 Look! I am living life in the fast lane with Kerr Grabowski and yet, I have kept up with my 3 x 3s!!
Yesterday, after mixing up more print paste and dyes with print paste for today's workshop, I took Kerr across the river to visit Oregon College of Art and Craft. We saw a couple of fun exhibits. One was these vessels made from plastic drinking straws.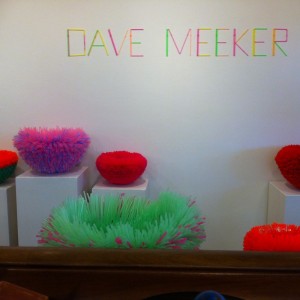 After a tour of the fiber and book arts studios, we had a delicious lunch at their cafe. Then, we met Mr C and went to the Japanese Garden. Wow! We discovered an unexpected Japanese kimono exhibit.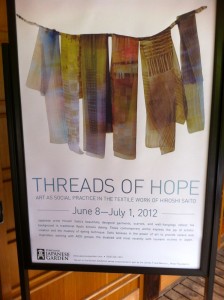 There were gorgeous kimonos and scarves and fabrics that were batiked, woven, hand-painted and simply luscious.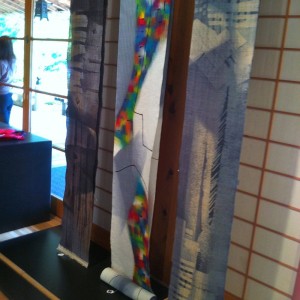 Last night, we had to scarf down some simple fare for dinner and get to the venue for the Columbia Fiberarts Guild meeting where Kerr gave a fantastic lecture and slide show. She really wowed the crowd and almost received a standing ovation. It really was wonderful.
Today was day one of our workshop with her. We had to rise early and get our nourishment and get to the venue by 8 am so that we could get the tables set up and arrange all the dyes and materials.
One of the first things we did was to prepare a simple screen for printing, using a window screen with the screen removed and curtain fabric inserted.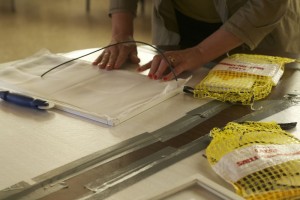 Kerr had little mesh bags with supplies for each of us. They come with a recipe for BBQ shrimp! Some people emptied the bag and used it for texture for their deconstructed screen.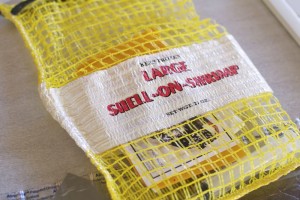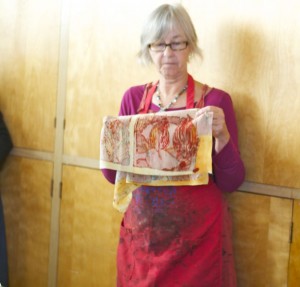 Kerr spent some quality time getting us up to speed on mixing dyes and the other stuff you need for this method and showing us samples of her screen prints.
Here is the arrangement of textures that I used for my first screen.
I got so involved, I kept forgetting to take process photos. But, after drying with a hairdryer, this was my result. The print is in the background and the screen is in the front.
I did some more printing on this and it is now batching back at the classroom. My next screen was prepared with torn paper on organza. No photos were taken. It, too is batching. I prepared one more screen which I will print with in the morning.
There is some truly gorgeous work being done. by the people in this class. This was done by guild president, Sharry –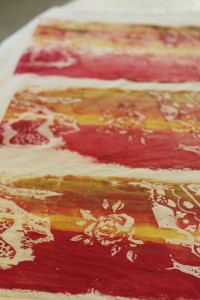 This subtle gem was done by Karen Miller.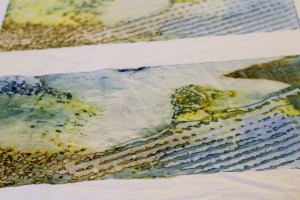 This screen was prepared with curten fabric that had a raised leaf and vine design woven into it. It is quite stunning.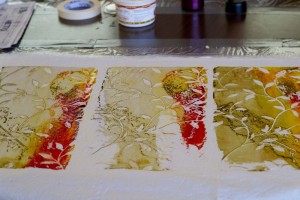 This beauty was done by Maarja.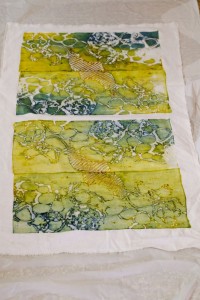 Here is a nice screen, drying in the courtyard of the church.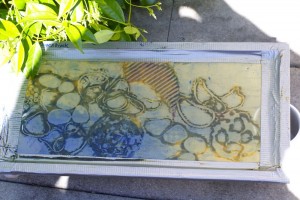 So, you can see we have had a busy and productive day.
Tonight, we went out for a margarita and some delicious Mexican food.  Now, off to bed for a good night's sleep. Looking forward to tomorrow.
Here is one more 3 X 3: