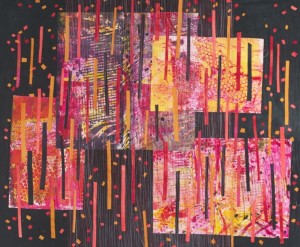 I edited this and removed a lot of the sparks and started stitching. I found out that it is Google Chrome which caused the problem with uploading the photos. I switched to Firefox and no problem!
I am stitching the heck out of this because I have so many small pieces. Here is a detail.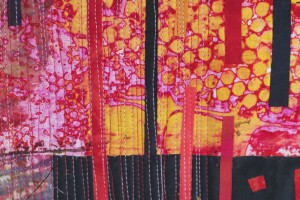 I have to say that this piece is making me very happy as I feel I have gone back to what I love doing — making abstract quilts out of my art cloth.
I have had a very busy day. I did lots of laundry, got the guest room ready for my special company coming tomorrow, made a batch of berry freezer jam to use up some of the berries in the freezer from last summer, shopped at the Farmer's Market and quilted!
I rented an infant car seat and a bouncy chair for Paige. Mr C and I successfully installed the seat in the car. I will be off to the airport at 8 in the morning. Soooo excited.
Tomorrow, my granddaughter leaves for a wilderness adventure with kids her age from all over the country. She will spend 2 weeks with other 6th graders surfing, rafting, climbing and hiking all around Oregon. She was given a scholarship for the program, and I am so proud of her. I know it will be an exciting time for her.
Here is today's 3 X 3.