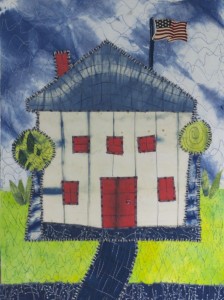 I am finally getting this house quilt finished. Some of my readers may remember when I cut this house out of a finished quilt.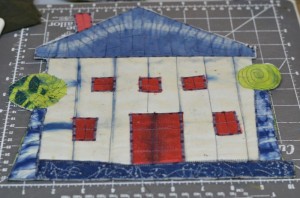 I wanted to use the house in a quilt for a program I found out about on Jamie Fingal's blog. The project is The House Quilt Project. Click the link to read about patriotic house quilts made for the walls of rooms for individuals in the Wounded Warrior Battalion and Habitat for Humanity. Each quilt must have an American flag and the size is 12 x 16 inches.
Most of the fabrics in this quilt are indigo dyes by me or prints from Kristine LaFlamme.
I made a background for the quilt. The grass is the only fabric not dyed by me.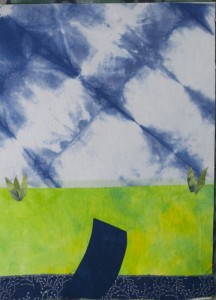 I added the sidewalk and some plants and then quilted it. I added the house and used an applique stitch on my Janome to stitch the house and trees to the background. You see the finished quilt up at the top of this post. I still have to finish the edges. I will deliver this to Jamie when I go to Long Beach for the quilt show next week.
Here is today's 3 x 3.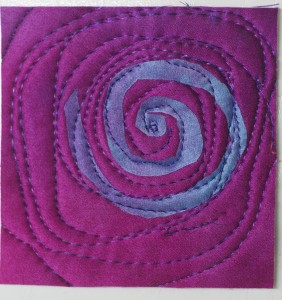 Now, I am off for a dinner out with Mr C.