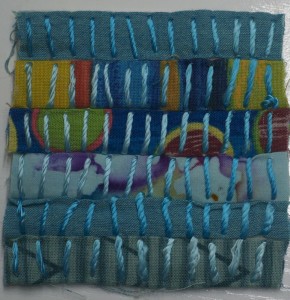 I had a great day. We had a STASH gathering at Reva's home, just up the hill from me. Mr C went to Corvallis today so I got to give Scooter his morning walk and then I took him to the groomer's so that he will be in good shape to go to the Canine Resort next week. When his hair is longer he comes back all matted and then the groomer is not very happy with us.
Anyway, Reva made us a fantastic lunch. Beth gave us some gifts found on her travels to Finland and Russia, and she regaled us with wonderful stories of her trip.
I was feeling happy tonight because all of my children were together in San Francisco for the exhibition of art work done by Mia and her classmates at the California Academy of Art Young Artist Program. I wish I could have been with them.
Yesterday, I started planning my next quilt. I am making a piece for the PAQASouth's Water exhibit. It will involve abstracted kelp. Here are a couple of ideas I have for blocks.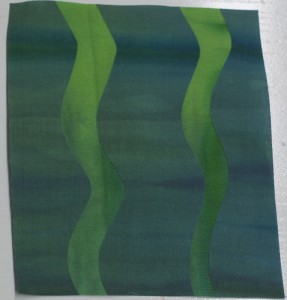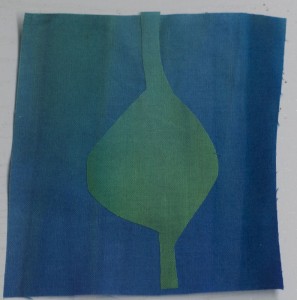 I think it will be another fun piece to create.
I showed you the Duffy boat postcard last week. I also made one for Del Thomas. We call her our angel for sponsoring our Twelve by Twelve exhibit at the IQF shows. She laughs that off. So, here is the card I made for  her. It finally got there. She says they were probably passing it around the post office for a couple of days.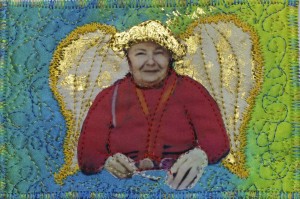 Of course, she does not have a gold halo – she has a gold hat!
I am so pleased that I have been able to keep up with my 3 x 3s this month. Here is today's.