I finished my 5 -day marathon of indigo shibori dyeing yesterday and arrived home at 5 pm. There is a delightful cafe at the college, and they serve a wonderful brunch on Sundays. Mr C and one other husband came and joined the fibers class for brunch. I had Italian lamb, polenta and grilled veggies, adorned with a poached egg — yum! Steve had grilled smoked salmon cakes, roasted potatoes and some fabulous looking vegetable concoction. I avoided the sweet breads.
I have missed my new friends today, but I sure am glad to get back to my routine — especially my long walks with Maggie. I didn't accomplish much today except for getting some laundry done, ironing and photographing my new fabrics. I am going to divide the photos into two posts. Here is what we look like when we are dipping in the big natural indigo pot. I will not divulge the names of these women photographed in this position!!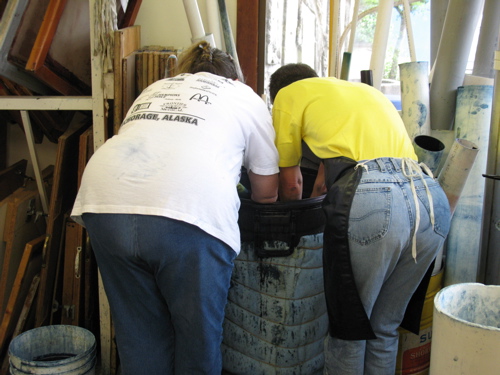 This group of fabrics is the silk/cotton blend dyed in Brazil wood with an alum mordant. I love, love the color and am planning to make a kimono style jacket from these pieces. I am going to order some Brazil wood so that I can dye up some more pieces.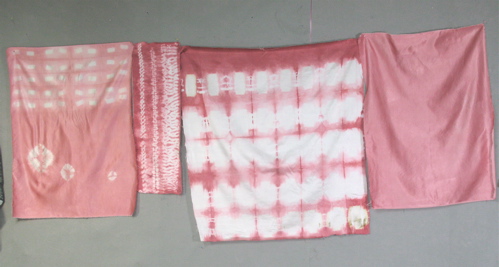 Here are the fabrics from Friday, that I was too tired to photograph: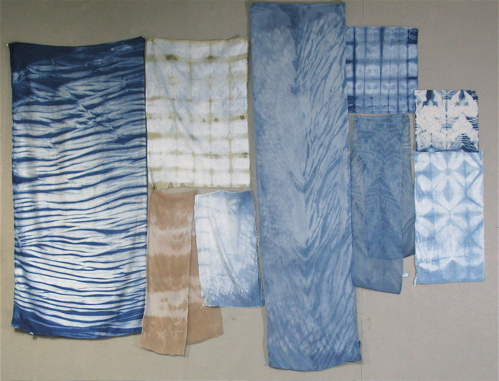 On the left is the large silk charmeuse scarf, shibori wrapped, which just about did me in!
The next piece on the top is dupioni silk clamped and dyed in Queen Ann's lace. I washed it with the indigo fabrics and it picked up a blue cast, which I love. The other dye became a nice avocado green
On the bottom is a chiffon scarf tied and dyed in Logwood which also picked up some blue. Love it. Next to it is a not so successful clamped and dyed in indigo which I scrunch wrapped on a pole and overdyed.
The next piece is the chiffon scarf from my first day which I arashi wrapped and redyed.
Next, on the top, is a folded and clamped piece in which I used a piece of rusty metal. In the next closeup, you can see some rust that migrated to the fabric. Under that is a chiffon scarf that I folded in triangles and arashi wrapped on a pvc pipe.
In the last row is a coffee filter with the same triangle fold and arashi wrap. Under it is a piece from the first day that got lost!!
Here is the close-up of the work above: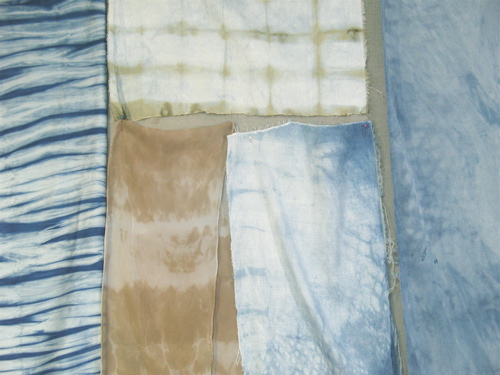 Here is the rusted piece. You have to look closely to see the little rusted dots.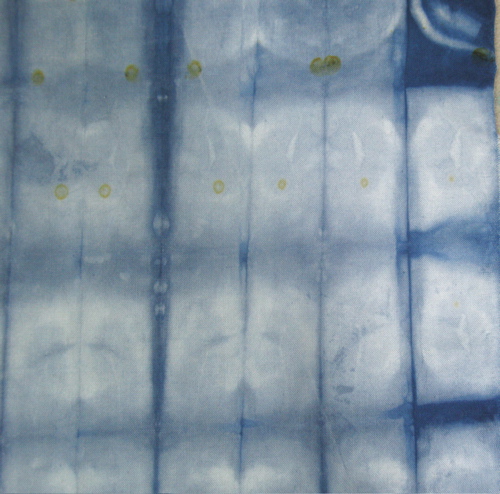 These two pieces had the same treatment with very different results because of the difference in the fibers.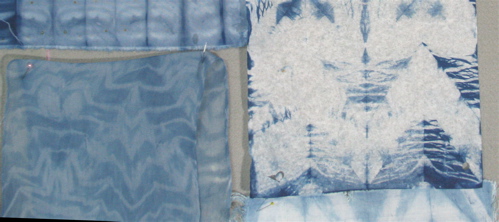 Here are 3 more pieces from Friday: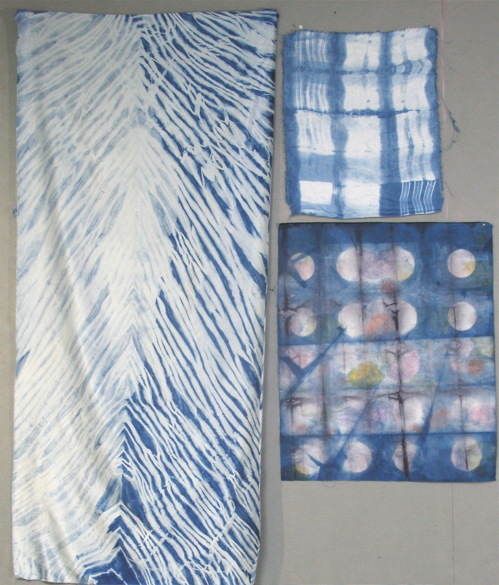 On the left is a piece of silk/cotton blend that has been arashi wrapped. I should have dipped it a few more times to get a stronger color on the overlapped section.
Upper right is a piece from the first day that was over dyed. It is the damask fabric which I folded and clamped with 3 bag clips. I really love it now.
The bottom right is that piece of June Underwood fabrid that I folded on the diagonal. This time I folded and clamped it with circles. I used canning jar lids and some round wooden pieces I found at the college.
Here is a closeup of those moons. I love them.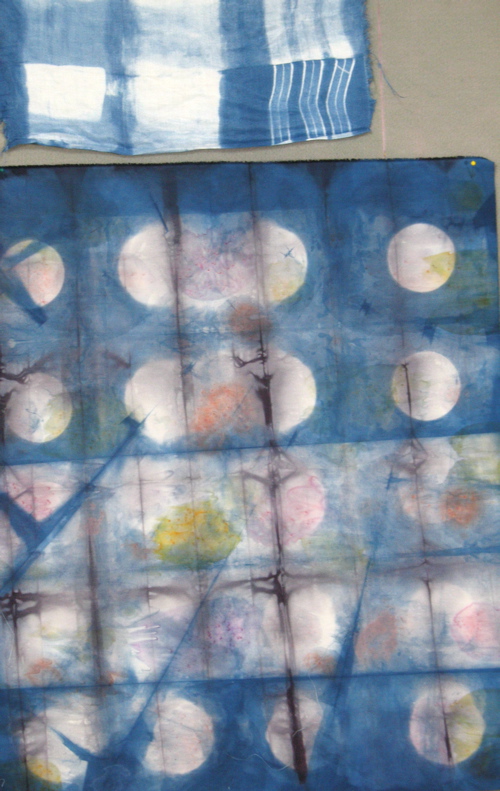 Look at these beautiful pieces done by Susan. She is a landscape designer who just moved back to the Northwest from Maine. She dyed the fabric in onion skin and Queen Ann's Lace first. Then, she did dips in the big pot of indigo, dipping it deeper each time to get the gradation. I think these panels are pure genius!!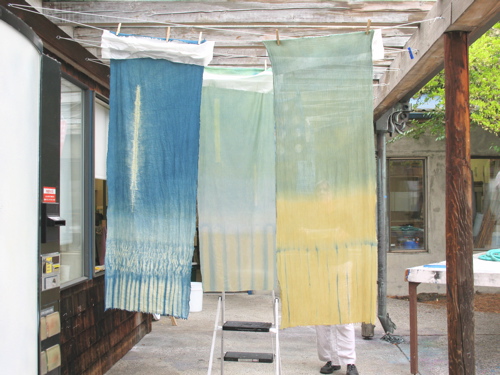 That is it for today. I'll be back tomorrow with the final reveal. Tomorrow, I am getting my hair colored and cut and then I have to get back to work on the Japanese Garden stuff.
P.S. – I just did a Firefox spell check on this document and it says that I have too many suspicious words!!