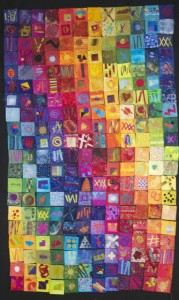 I am so tired of the long gray, chilly days in here in Portland. It is so hard to get up the energy to do more than the necessary. So, I am really looking forward to getting away on Wednesday. It looks like we will have sun and temperatures in the 70s in Southern California.
I did get some more 3 x 3s up. I hope I have enough room on the design wall to get them all up. I have 20 rows and there should be about  30. I hope to finish tomorrow and then when I get back from my trip, I can start stitching it together once I have finessed the layout.
Here is my drawing for the day. I just noticed that I left off one of the rungs!!  I should do my drawing earlier in the day when I am not so tired!!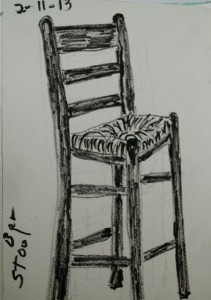 Don't forget to check into the Year of Art American Cancer Society fundraiser tomorrow. Click on the logo on the right.