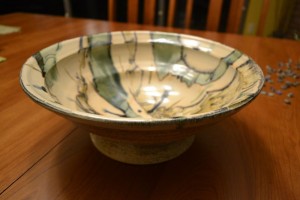 Artists Among Us is history for another year. The show closed yesterday. Last night I reconciled the database with the receipts. This morning I printed all the sales inventories and headed to Trinity to help with art pick up. When I got home, it was almost 7 pm. I made some dinner and headed to my basement hideaway and settled into my sofa and did some hand stitching on my SAQA auction quilt for two hours while I switched back and forth between The Voice and Dancing With the Stars. It was so nice to do some hand work.
The bowl up there is our purchase from the show, made by our featured artist, Chris Baskin. Here is a photo of him with the display of his beautiful work.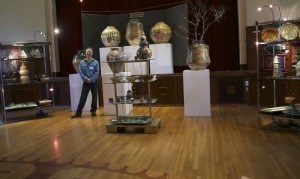 Here is one of his beautiful pitchers with his work as the backdrop. There were several beautiful arrangements around the room, using his pottery.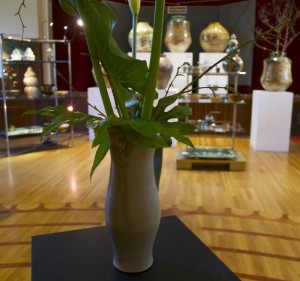 Here is a photo of some folks chatting with Terry Grant's quilts in the background.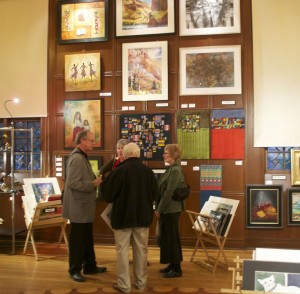 We had several middle school kids from the church who served yummy food at the Gala. They were so gracious and seemed to be having a great time.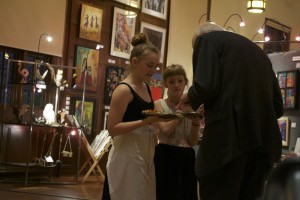 We had lovely music provided by very talented members of Trinity.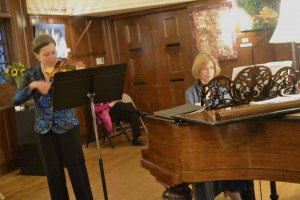 Mr C sold wine tickets. Looks like he is not getting much business.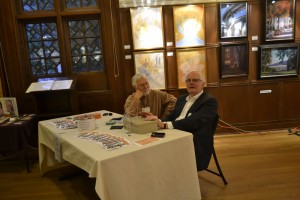 And here are my two co-chairs on the right with Chris, our featured artist next to me.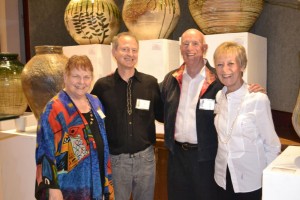 It was a whirlwind week-end with lots of work. So, tomorrow, I get back to working on the SDA Conference and planning for attending Lisa's wedding. We leave a week from tomorrow.