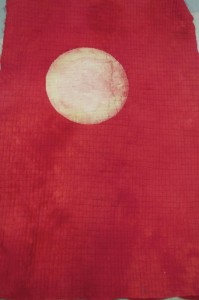 I have this stitched to the wool pre-felt and ran it through the wash with hottest water and just took it out of the dryer. I am trying to decide if I should put it through the wash again to see if it will shrink up some more. I will post a photo tomorrow.
Here is a detail of the stitching.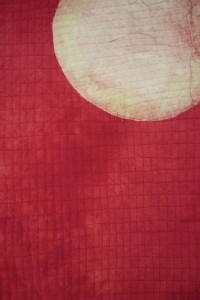 I had an eventful week-end, sort of. On Sunday morning, Kathy Nida and her teens came by for a visit. Her daughter is interested in Reed College so Scooter and I took them for a walk around the campus. She and her family are spending a few days near Grant's Pass so that she can see her work that is part of the SAQA Sightlines show which is currently at the Grant's Pass Museum.
In the afternoon, I was on a quest to find a priority mail envelope to get something in the mail as soon as possible. Unfortunately, I had a little fender bender with my car. I was so upset because I rarely have any incidents when driving. I have $1700 damage to the side of my car. I pulled out to pass a truck that was waiting to make a right hand turn. I misjudged how big the truck was. He has a very minor blemish on the corner of his bumper. But, it was still very embarrassing and stressful.
Even so, I went to see my doctor this morning and had a great quarterly check up. My bp was 116/60. My weight loss has really slowed down so I need to up my exercise schedule.