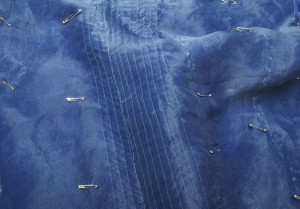 I had a fairly productive day yesterday. I took some photos to share and was ready to blog about my progress after dinner. In the middle of dinner prep, the lights went out. This is a rare occurrence. We have lived here for more than 7 years and we have had very few power interrupts. Apparently, a tree was down in the neighborhood. First it was to be back at 9 and then 11. We finally went to bed at 10:30. I think it came back on at 1:30 this morning.
Anyway, I went back to stitching the organza to the wool pre-felt. It has such a luxurious tactility. I just love touching it. This is why I work in textiles.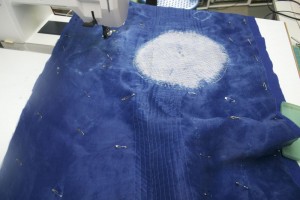 I think I can finish stitching it today and do the shrinking. The Barnes' are coming over for pizza so I may not get totally done.
I also made a quick trip to Mill Ends to get some yarn to make a chemo hat for my friend Judy who starts chemo this week for breast cancer. She is so upbeat and positive about this whole experience — she makes me smile when I want to cry about it. I promised her a chartreuse hat and I found this yummy mohair:
But, in the end, she is such a colorful person, I had to go with this: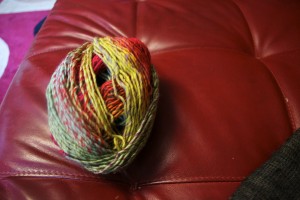 It is really soft. I think it will look great. I was going to start knitting last night, but that didn't happen!!
While I was at Mill Ends, I saw this colorful burlap. Have been wondering what I could do with some of this.