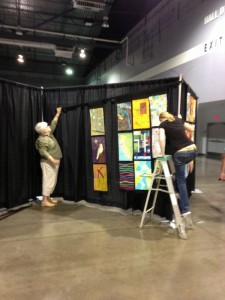 Here is Terry Grant helping to hang our 20 X 12 quilts at NW Quilt Expo this afternoon. She came over to my house this morning and we attached the quilts to the felt panels that we made last year for the 12 x 12 quilts. We could 4 of those on a panel, but we could only fit 3 20 X 12 quilts on each panel so it took 4 panels for each set. Here we are – following a printout I did of how the panels needed to be attached.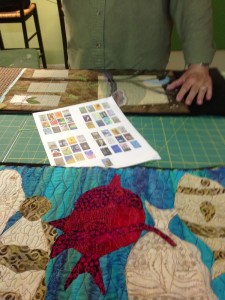 There was a lot of stretching and bunching and pinning and I am tired. So, hear is my lazy attempt at blogging — photos of the display.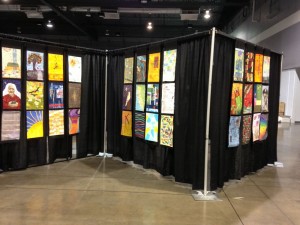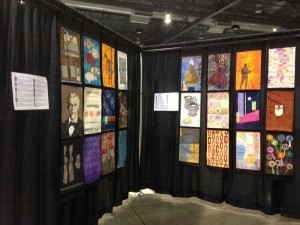 Metamorphosis: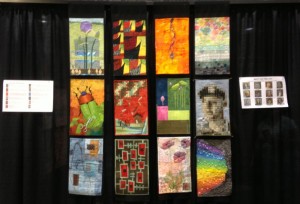 Maps: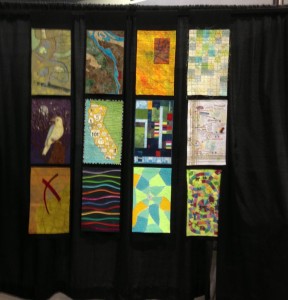 Mythology: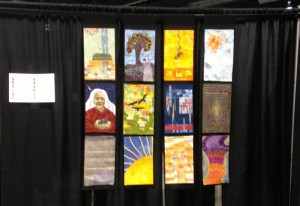 Maverick: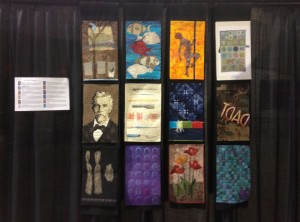 Sweet:
It was so exciting to see all of the pieces in the flesh, so to speak. Such talent we have in this group.
Tonight, I put together my presentation on Websites for the SAQA meeting tomorrow. And so my whirlwind of non-studio activity continues.