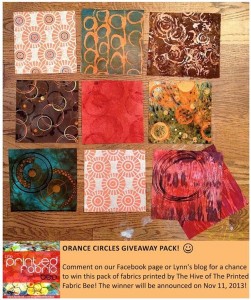 It is so exciting to have our first reveal for the Printed Fabric Bee. Above are 6 inch squares of each fabric created and you could win them. You just need to hop on over to Queen Bee Lynn Krawczyk's blog and leave a comment or leave a comment on our FB page (just click on the logo in my sidebar). There will be one more square added to the group as Pokey Bolton was busy at quilt festival in Houston and will have to catch up with us.
Here are the pieces that Lynn received from each of us.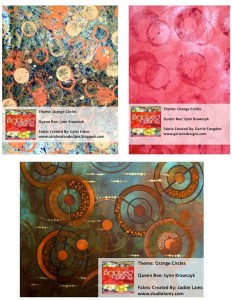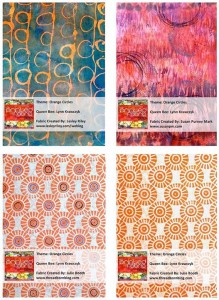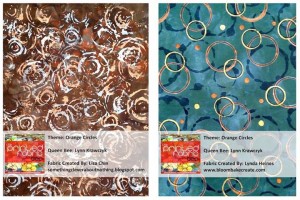 I thought I would let you know how I printed my orange circle piece. I didn't have a lot of time because of other stuff going on in my life and true to my usual MO, I decided to do something I had never done before. I wanted to use the Jacquard product called Color Magnet. The jar I bought was for screen printing. I did not realize that there was another consistency because this was a thick gooey substance and very difficult to work with.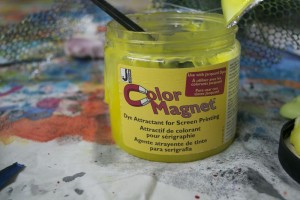 The substance is yellow so that you can see where you have used it. The premise is that wherever the substance is on the cloth, the dye color will strike quickly and become a darker color. I wanted to stamp and draw circles. These are the objects I used for making marks.
The syringes did not work because the substance was too thick. Here is the fabric drying before I dyed it.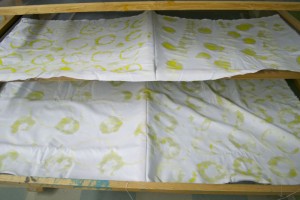 I used two different orangish dyes – tangerine and rust orange.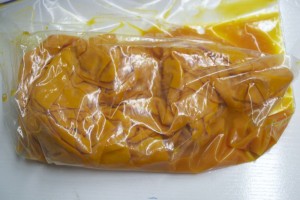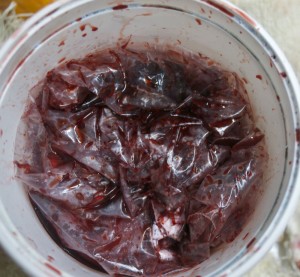 Here are my results.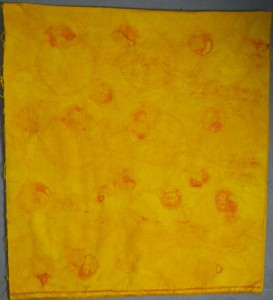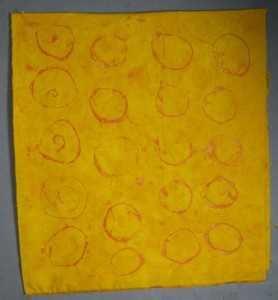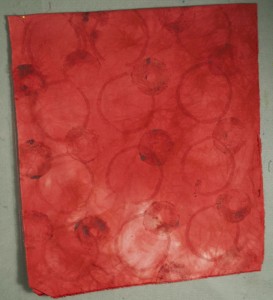 The tangerine fabric needed more work which I did not have time to do. So I chose from the rust orange fabric. Here is what I sent to Lynn.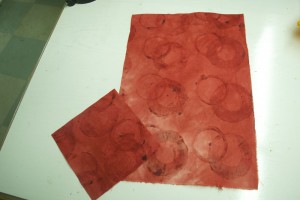 This was fun – especially the reveal of all the beautiful printing done by the other bee members. Next month, we will be doing blue spirals. I have some ideas percolating. I am thinking soy wax!! Now, be sure to go leave a comment to win some fabric.
Here are links to all the blogs of the other bee members; check out how they made their orange circle.