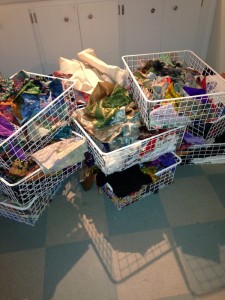 Just keep moving, I tell myself. This is all the fabric that I have deemed of little use to me. Don't worry, I still have plenty, especially the white prepared for dyeing kind!! Those bins contain commercial prints, batiks, some hand-dyes, dupioni silk, other silk, organza and vintage Japanese textiles. I have separated them into larger pieces and scraps. I think I will let people fill a larger bag with larger pieces for one price and a smaller bag with scraps for less money.
Today, I found so many items from a previous time when I attempted to do traditional quilting. These will be available.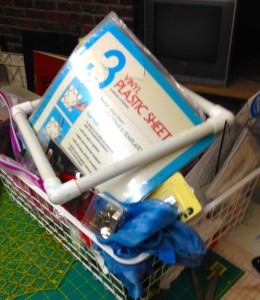 I have these two storage units empty and they will be for sale.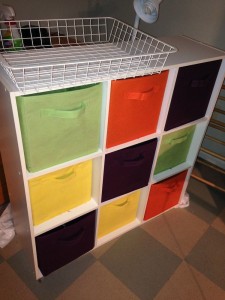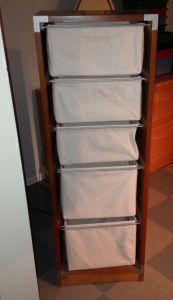 I received word yesterday that this quilt was juried into the Oregon Exploring Layers show, debuting in February. That's right – Walking with Scooter and Mr C.


The new quilt I entered in the show didn't make it. I was a bit disappointed, but really, the leaves were a bit problematic for me so I may take them off and screen print new ones. I also think the photo of this may not do it justice. Actually, as I sit here and look at it, I see lots of problems!!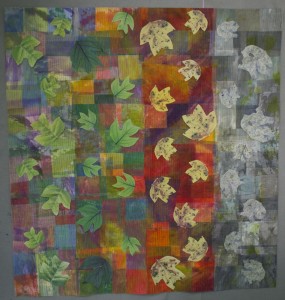 In the evenings, I have been working on the sweater for Paige. I just need to knit the sleeves and put it together. I was hoping to have it done for our trip this week, but it will probably not make it until Christmas.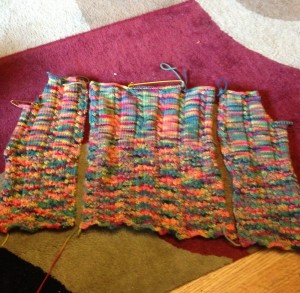 On another note, The Fabric Bee will be contributing a pack of 10 printed fat quarters for Virginia Spiegel's American Cancer Society fundraiser which she has titled Fiber 5K. There will be drawings for other great prizes, too. Click on the logo in my sidebar and it will take you to the page showing all the prizes donated to date. I will let you know when the race starts.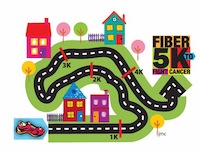 Not sure when I  will check in again. We are heading to California tomorrow. I am really looking forward to time with the CA peeps, especially the precious Paige.