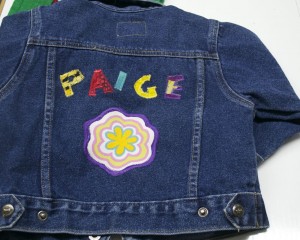 I love both the winter and the summer solstice. Today brings the promise of the return of more light. The summer solstice is the celebration of the longest day of light.
I got so much done in the last couple of days, even though they were short on daylight. Yesterday, I embellished a little jean's jacket for Paige. My sister-in-law in CA thrifted it for me. It is a size 2 toddler so she may need to grow into it. I put it and a few other things in the mail to her yestereday. Here is the front. Not terribly inspired, but it will be unique.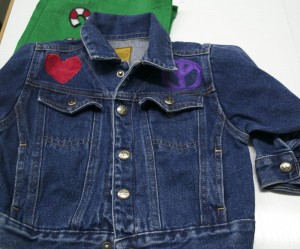 I want to thank all of you who helped me destash my studio. I only have 3 bundles left! I might add some hand-dyes and some inexpensive scrap bundles later. Today, I printed all the labels and packaged up the goodies and dropped them off at the Post Office. You should receive your fabric a day or two after Christmas. Here is what I delivered to the PO this morning.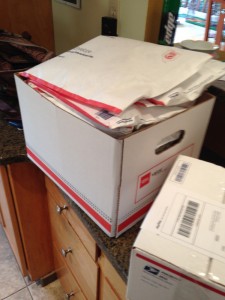 Then, I went to work on de-personalizing our home to prepare it for selling to someone else. First, I took down my cross collection – didn't want to scare off a potential buyer! I also packed up all the family photos from several different rooms. I got a bit weepy as I saw the transformation happening, but it will all be good when I can put every thing back in a new home!
Then, I scooted down to the studio and spent some time locating some of my tools and thermofax screens in the storage room. I need to print a fat quarter to go in The Printed Fabric Bee fabric pack for Virginia Spiegel's 5 K to Fight Cancer. I wanted to discharge a pattern on a hand-dyed fabric, hoping the turquoise would remain where I discharged. I couldn't find my Soft Scrub so I ran out to buy a new bottle. I wanted to use one of my favorite old screens with wonky lines. You can see where the softscrub is on the fabric.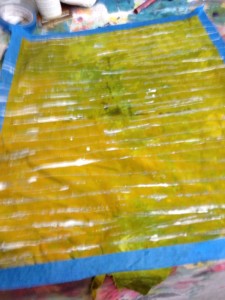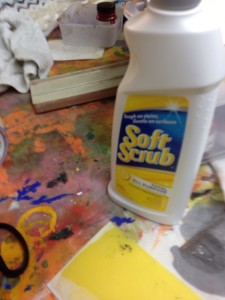 Unfortunately, this Soft Scrub did not have enough chlorine to discharge the dye. So, I just have a very clean piece of fabric. I will try again with discharge paste, if I can find it!! Or maybe, I will screen on paint. That would probably be easiest.