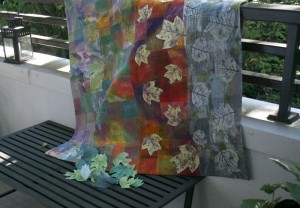 In my quest to re-energize my creative life, I decided to start by rehabilitating a couple of quilts that didn't make the cut.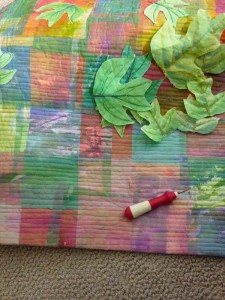 I made Taking Leaf of My Seasons for the SAQA Oregon Layers show and it did not get in. I was not surprised.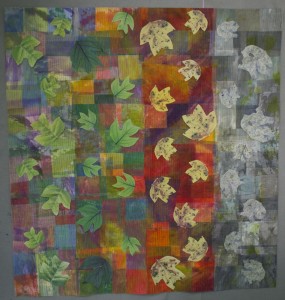 There were too many leaves, and they were too realistic for the abstract background. It was one of those last minute things and I didn't have time to redo it for the show. So I am now removing them. It is really quite relazing and cathartic. Then, I have to figure out what to do. I really love the painted organza background so I want to do something that will work with it. Maybe fewer organza leaves that are fused or maybe thermofax prints. To be decided.
At any rate, I am still feeling under the weather and I have my two teen-age grandchildren here for a few days while Mom and Dad are in Portland, Maine. They are such great kids – so quiet and polite. We took them to the Farmer's Market yesterday. Here they are walking back – notice the baguette of French Bread that Mia asked me to buy. It did not last long.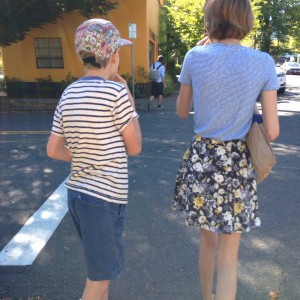 Tomorrow will be a test for Mr C and I. We have to roust Mia at 6 am – get her breakfast, make lunch and walk her to the street car by 7 am. Her highschool is right on the streetcar line. Then, we have to get Miles moving and drive him back across the river to his neighborhood school by 8:45.  Wish us luck!!