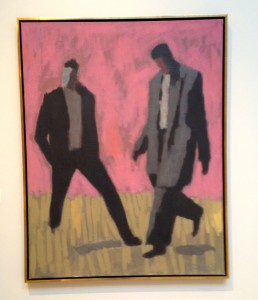 ….I would have an incredible art collection. Mr C and I had an art date at the Portland Art Museum this week-end. We saw a portion of the work collected by Arlene and the late Harold Schnitzer. In Passionate Pursuit includes selections from the Schnitzers' magnificent collection of Han dynasty Chinese art, 19th and 20th century silver, Native American ceramics and beaded bags, international glass works, and paintings and sculptures by Northwest and West Coast post-war masters. It was magnificent. I was feeling a little under the weather and really want to go back.
In their collection, is the work of two of my favorite Portland modern artists – Michele Russo and Carl Morris. The above photo is a work by Russo. Here is another piece of his:
Here are two works my Carl Morris. My closeups were a little fuzzy.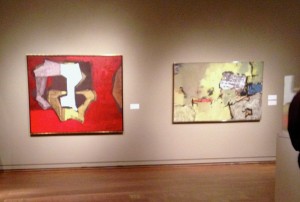 I am just going to show you some of my other favorite pieces from the collection. Bronze and wool blankets by Marie Watt.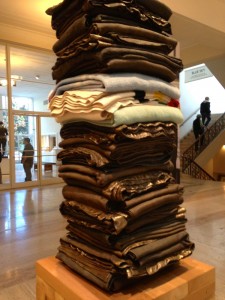 Painting by Louis Bunce – Beach, Low Tide #2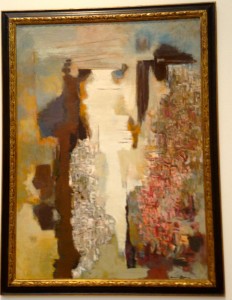 Mr C like this piece!! Bowee Wowee. The poop was very realistic!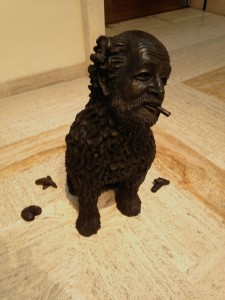 Forest Hermit – by Roy DeForest   So much to see here and so much fun.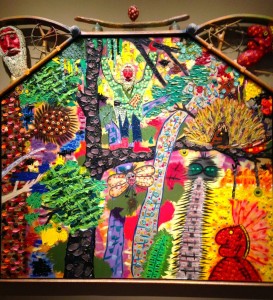 A fun ceramic piece by Viola Frey.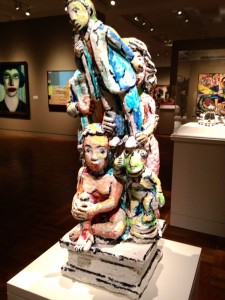 This piece was gorgeous and so beautifully rendered that from a distance it looked like a photo. Villa Gamberaia-Laghetto by Tom Fawkes.
Detail: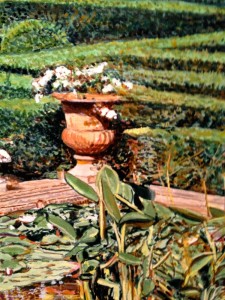 Some gorgeous fused glass plates.  Klaus Moje.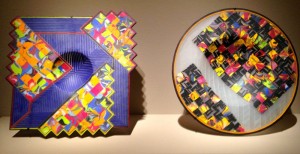 Somehow, I neglected to get attribution for the next two paintings.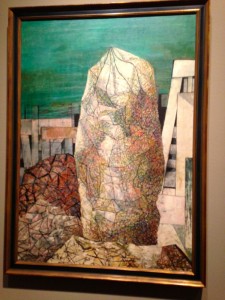 I just loved this one of horses in a landscape. Just so serene and simple and yet drawing us in with the shapes and colors.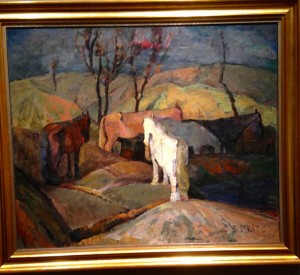 Here is a mixed media piece with oil, fabric and leaves on canvas by Michelle Ross.
Leaf detail: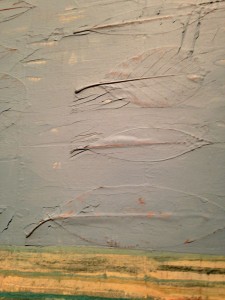 This piece was very intriguing. Will or Won't by Squeak Carnwath. She embellishes her paintings with imagery that conjures up stories in the viewers mind – at least it did for me.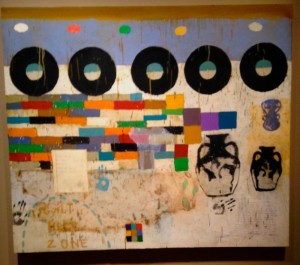 Detail: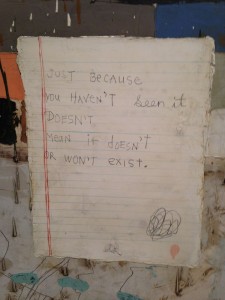 The title is painted on the side of the canvas: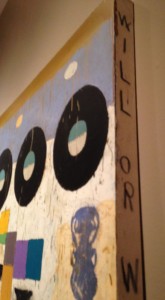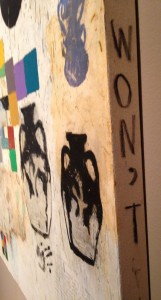 I love the title of this one – Rumpus Jump by Lucinda Parker. (I love that so much of their collection is work by women.)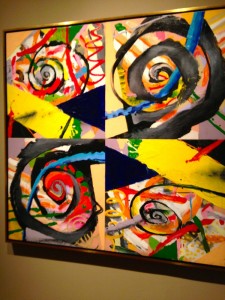 I have seen full-size versions of Deborah Butterfield's horses, but these were much smaller and really lovely.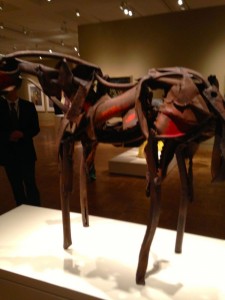 This piece was interesting to me for how it was executed. It is titled The Last Words by Dinh Q. Le. It is a woven Chromogenic print and linen tape.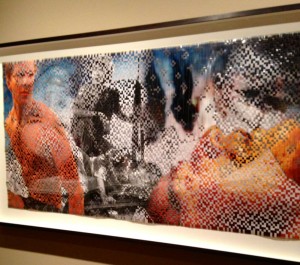 Here is a detail: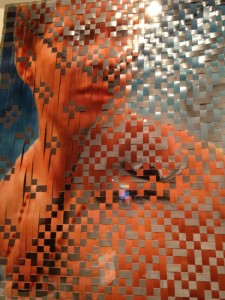 A wall sculpture titled Green Piece by Mel Katz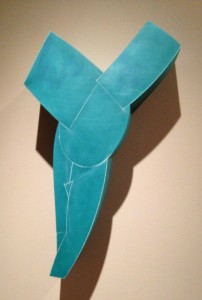 A smallish abstract by C S Price who was born in 1874. I liked the shapes and colors in this.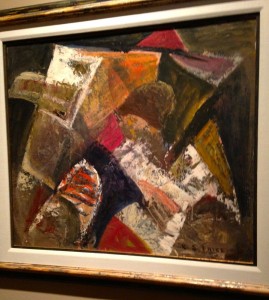 And last, a wonderful little carving by John Frame, titled Short Shrift. We saw an installation of his marvelous carvings and assemblages a couple of years ago.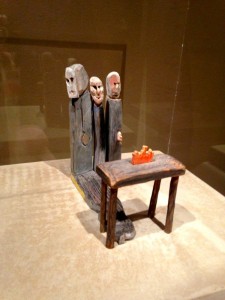 So, there you go. Hope you enjoyed seeing some art that I love. There was a lot more, but these were my personal favorites. I will try to post this next week, but I have a lot of appointments and meetings. Such is my life!