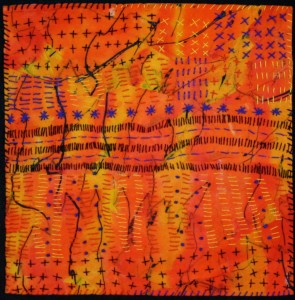 I have been remiss at posting my contribution to Virginia Spiegel's 100 Fundraiser to Fight cancer. I am going to donate my obsessively stitched Fiesta piece. It just arrived back from Interweave where it was photographed for the current issue of Quilting Arts Magazine.
It is mounted on a gallery wrapped frame and is 12 x 12.
The fundraiser happens on February 14th. Artwork by 100 artists will be randomly distributed to those who make a $100 contribution to the American Cancer Society – we hope to have a total donation of $10,000 in one day. Here is a link to the website. These are all accomplished fiber artists and so the art will be awesome. You can see a pinterest board of donated work, here.