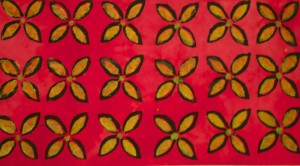 Julie, the March Queen Bee, chose Mola as her theme and black, red and any other bright colors. Molas are a Panamanian form of reverse applique using many layers of fabric. So, the first challenge was interpreting embroidery in a print. I selected a simple design, which I shared in a previous post. My plan was to do a black outline on red fabric with a yellow or orange center.
I made thermofax screens and the registration went fairly well, but before I could finish printing, the screen fabric started disintegrating and leaving blobs. I came home and regrouped and printed my design on freezer paper and cut the stencil.
This is the black outline stencil.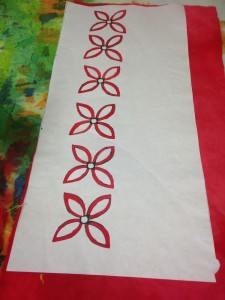 And here is the stencil for the centers.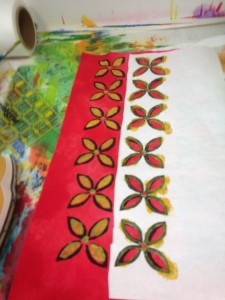 It is not bad, but it does not live up to my intention. I couldn't find a yellow or orange paint that would cover the red and print stronger. The paper stencil began to fall apart and I ran out of red fabric, so I used the thermofax printed flower for the six inch giveaway piece.
Here is the mosaic showing the fabrics that were completed by the end of the month. Just couldn't make it this month. Next month I am queen bee – whee! I get a month off and I get to have new fabric.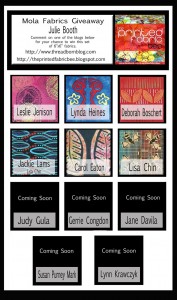 Go to Julie's Blog or the Printed Fabric Bee Blog and leave comments for a chance to win the fabric collection.