It has been one of those weeks. I am working on a new landscape quilt whenever I can fit it in. I had a wellness check with my doctor on Monday and lunch with Lisa and Clay. On Tuesday, I had a meeting at Trinity to make plans for out multi-generational classes for this coming year. Yesterday, I spent the morning at the Expo Center hanging the new Oregon SAQA exhibit. That is Kristin LaFlamme in the first photo, hanging my Ode to a Tree Quilt.
Today, I spent most of the day at the show, looking at quilts, shopping and working at the guild booth. The guild has an exhibit titled a river runs through it. I have two quilts in the show. Here are a couple by Terry Grant and I, hanging together. These quilts have been out an about before, but fit the theme. I was disappointed with how this show was hung.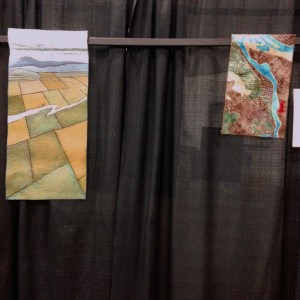 Here is my old friend, Meander, in the show.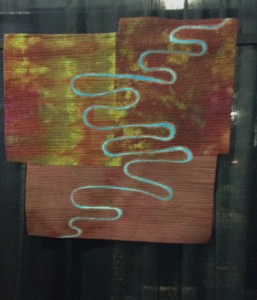 Here are the results of my retail therapy:
Some lovely hand dyed cottons from my friend Maureen from California. These will fill in some holes in my stash.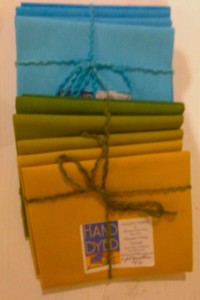 This is a fat quarter bundle of Marcia Derse designed fabrics. She creates one of a kind prints and then they are reproduced as a fabric line by her. Love these colors.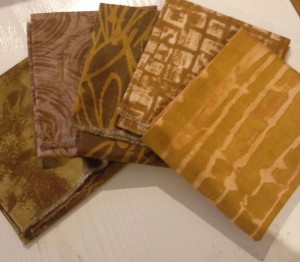 This is a blurry photo of the landscape quilt I am working on.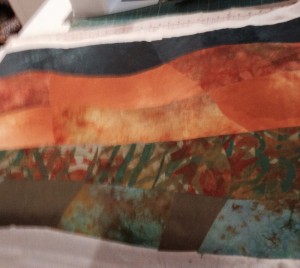 Here is the zigzag free motion stitching that I have done.
I think I will do some hand stitching. I found some perle cotton at the show and also some teal thread for the sky.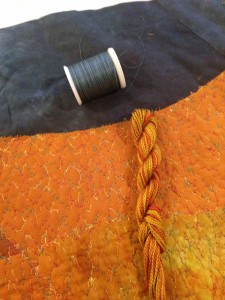 My Sky Blue Pink quilt made it to New York and has a spot on the exhibit postcard.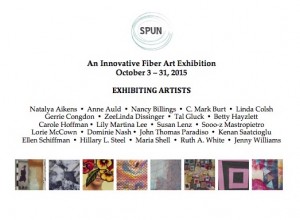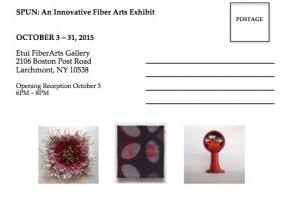 Tomorrow, I will be hanging out at home, waiting for my new iPhone and quilting the landscape.