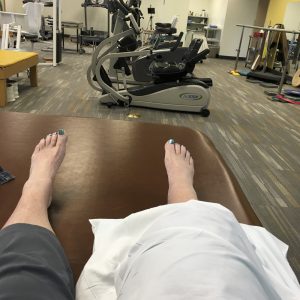 After 7 weeks of being diligent with my care and physical therapy, today I graduated. I can get a good bend in my leg to 122°.  I can walk fairly gracefully (heh) on my own. I can manage stairs. I am sleeping quite well. Life is pretty good and I think it is time for me to get back to my life. That is me in the Total Knee Gym, getting iced after a rigorous workout.
I had to have x-rays done of my knee today for my appt. with the surgeon on Thursday. Here is how my leg looks in the classy shorts they give you for knee x-rays. You can see my lovely scar. Remember these legs are almost 78 years old! My surgery leg is still a little swollen.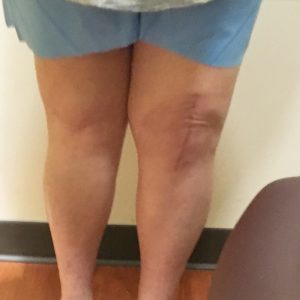 I have a video of my physical therapists playing kazoos and shaking pompoms for my graduation, but it was to big to upload. Here is my certificate: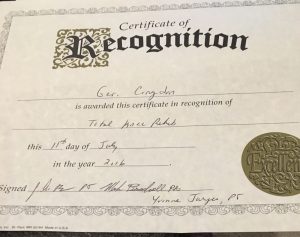 I started driving and am able to stand for longer periods of time and take back the cooking. Mr C is happy about that!!
Trinity Cathedral is hosting a wonderful exhibit called The Bridge. a ground-breaking exhibition of 47 premier Arab, Persian and Jewish contemporary artists from 15 countries of Muslim, Christian and Jewish traditions. The Bridge, exploring the theme of what "bridges" us to each other, as well as what they hold in common across their religions and cultures, is on view thru August 21 at the Cathedral.
On Saturday, I went to a training for docents. Yesterday evening, we had the opening reception with a huge turnout. The art work is really wonderful. I do my first stint of docenting tomorrow and I should be studying!! It feels really good to get out of my recovery bubble and be out in the world again. Here are a couple examples of the art.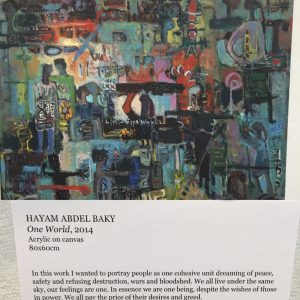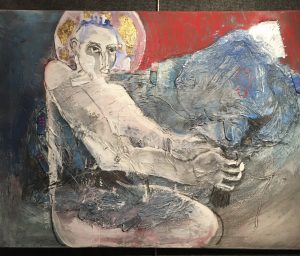 Each one has a story of how the artist is representing the theme.
On Thursday, we are heading south to California to visit Paige and her parents. I can't wait. We plan to stop in Grants Pass so that I can see the SAQA exhibit, Concrete and Grasslands. We always take a couple of days to drive down so we will stop overnight in Yreka, CA.
I am going to try to get back to blogging. I missed getting work into a lot of shows, but I hope to get back in the studio, soon. You can always find me on Facebook or on Instagram.