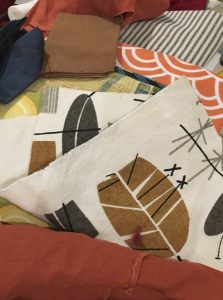 Yesterday, I went to my new studio to get some things done for a couple of projects I am planning to do. I gathered some of my more heavy weight scraps and fabrics to piece for making the oven mitts. I also, pulled out some of my hand-dyed silk fabric to use for Laura Wasalowski's silk stitch along.  We were to fuse the silk to wool batting. I didn't have any so I used wool felt for one piece and a scrap of something that looked like it would be easy to stitch through. I prepared two backgrounds because I like to practice on one.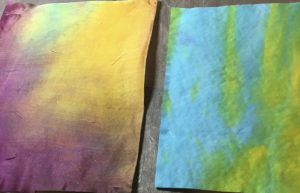 I also pulled out all of my Perle cotton in sizes 8 and 12. I am missing some colors I think I might want to use. I will need to go down the hill to In Stitches and do some shopping.
I didn't accomplish much today because I was feeling a bit slammed. I went back to boot camp at the condo gym yesterday morning, and we did weight training. I am feeling it today plus the really cold weather we are having is aggravating my sinuses.
Last night I started a great class at Trinity – 4 weeks of studying the work of Bach. The teacher is an organ virtuoso and a Bach expert. We sat around our beautiful organ as he demonstrated many parts of a famous Bach toccata and fugue.  I took some photos of the organ and the Christmas decorations.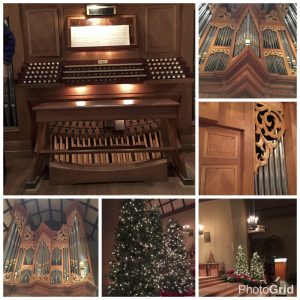 Some of you may remember the quilt I made from a photo I took of the pipes.