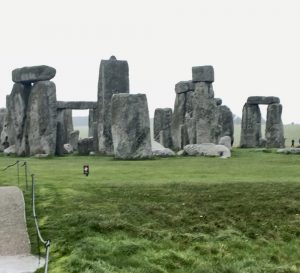 On Wednesday of our week in the UK, we had a free day. Mr C had booked a day trip to Stonehenge and Bath before our trip. We took the underground one stop and walked to where we were to meet the coach. We were not sure where we were supposed to be, but a family from Finland told us that we were in the right spot. It was gray and cloudy and rain was in the forecast.
By the time we got to Stonehenge it was raining and very windy. Here is the queue for the shuttle at the welcome center to the location of the stones.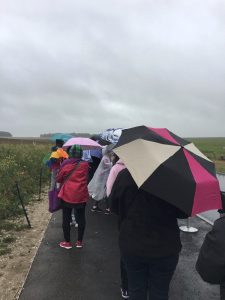 I enjoyed checking out the wild flowers along the path.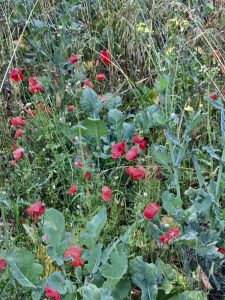 Here is the mob of people walking up to the stones in the rain!!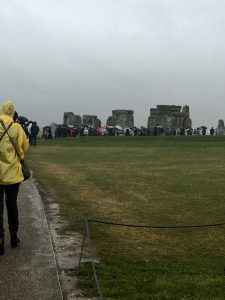 We admired the stones and the ingenuity of the people who put them here.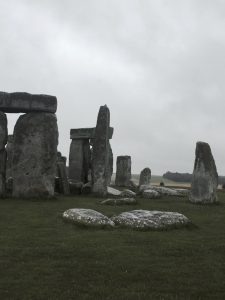 We got a selfie with the stones in the background. By this time the rain was coming down horizontally.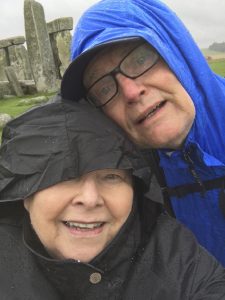 We went back to the welcome center and perused the displays with all the other folks. The welcome center was very well done and I wish it had not been so crowded so that I could see the displays a bit better.  Then, we ate a sandwich lunch before getting back on the bus and off to Bath.
As you can see, it was really raining when we got to Bath. I would like to have been able to see the beautiful countryside bathed in sunlight!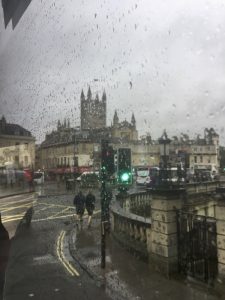 We were warned by our guide that we must be back on the bus by 4pm or we would be left behind and have to spend 30 pounds to take the train back to London. We queued up again at the Roman Baths while she got our group tickets.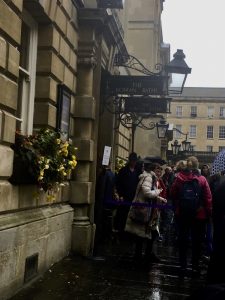 We were inside with another mob of people, but at least it was dry. We both enjoyed the baths and the ancient architecture, artifacts and stories.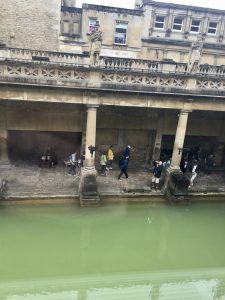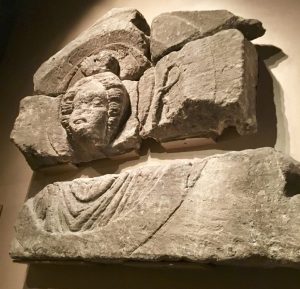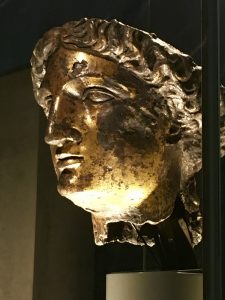 It was still raining when we left the baths so we ducked into a coffee shop until the rain let up. We decided to check out a marketplace with various vendors. I found a booth that was selling sewing supplies:
I wish I had bought some of the dyes to try.
All of a sudden, it was time to head back to the bus and every street and building looked the same. We knew we needed to get near the cathedral.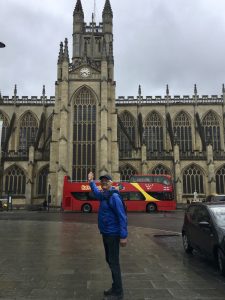 We finally found the spot where the bus was supposed to be and there was no bus and we couldn't find anyone who was on our bus. Slight panic happened. Then we began to see others and the bus finally showed up.
We got back to our underground station and bought some take out and a bottle of wine to take back to the room. We were damp, tired and happy with our rainy adventure. This was my activity for the day.