It has been a lovely week-end in our part of the world. We got some short sun-breaks yesterday and a really lovely sunny afternoon, today.
Yesterday, I decided it was time to take the tagine for a test drive. So I called up Steph and invited the family to come for dinner.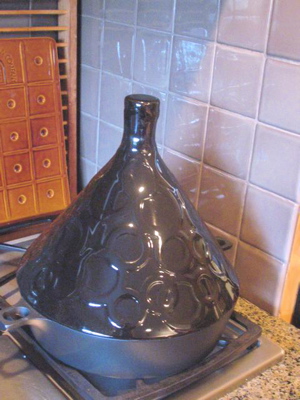 For the uninitiated, these were developed by the nomadic people in the desert and worked like an oven on an open fire. I decided to make chicken with apricots and almonds. First, you mix cinnamon, ginger, turmeric, salt and pepper. Add a couple of tablespoons of oil and coat the chicken pieces.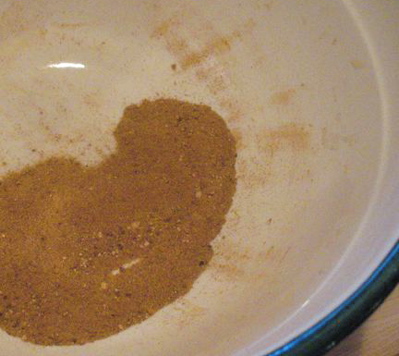 Brown the chicken in the tagine base.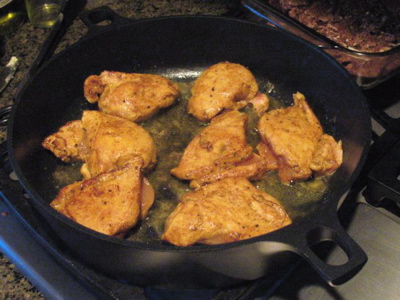 Slice onions and make a little bundle of cilantro and parsley.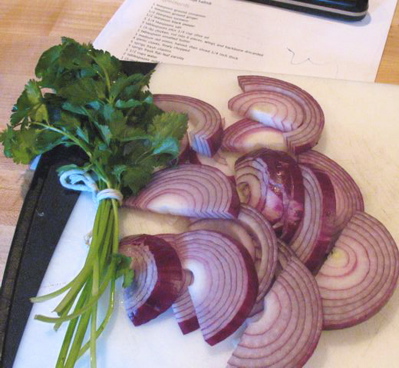 Then brown the onions.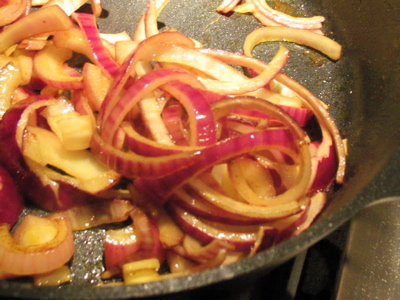 Add the chicken and the herbs and some water. Cover and let it cook. While it cooks, prepare a mixture of honey and water and cook the dried apricots in it until the sauce thickens. Add it to the chicken and cook some more. Then sprinkle it with toasted almonds and serve over couscous. I served peas as a veggie. It was really, really good. I made brownies for brownie sundaes. Mia says, "Grandma wouldn't give us WW brownies!" Yes, she would and she did. They were very tasty – just small so I gave the non-dieters two. I had nonfat frozen yogurt and they had very rich vanilla ice cream.
Before I did all that cooking, I took a walk during the 4 pm sun break and took my camera. See, here is the blue sky!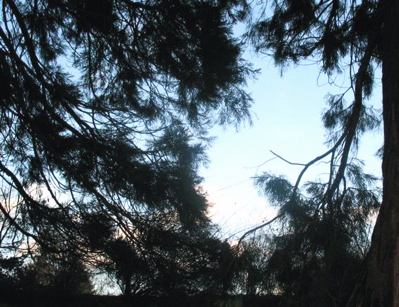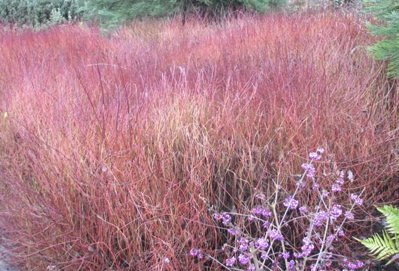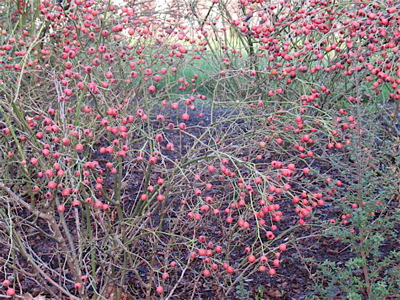 The main reason I took my camera was to get a photo of this. The photo does not do the site justice. It really looks cool.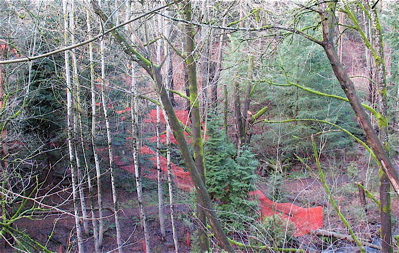 It is a construction fence that snakes across the woodsy canyon on the Reed College Campus. They are building a pedestrian bridge across the canyon to the new dormitories.
The morning paper had an article about an art show opening at Marylhurst University. The artist, Leonard Rudder, has an interesting story. He was an art school graduate from the north east who moved here in 1950. He was involved for a short time with the art community and then just faded away. He worked as a custodian at an elementary school. He didn't stop painting, but he stopped showing his work. Two years ago, the curator of the show went into the basement of this now 90 year old man and found a treasure trove. We loved his work. It was all very abstract and quite wonderful. Here is one of the pieces that I scanned from the catalog.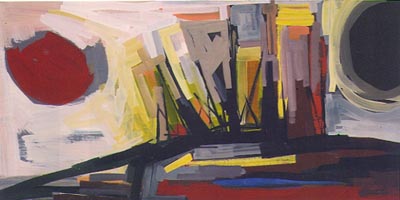 After our art date, we went to the mall and did a little shopping. I scored some brown corduroy jeans, a sweater and a couple of cotton tees. Mr C found nada.
Early this morning, we were awakened by flashing lights on the street behind our house. Another car had missed the curve and driven up on our parking strip. This one was pretty bad. The old van was crunched against one of our big fir trees. We never heard the crash or sirens, but there were several police cars and a wrecker moving the car by the time we were aware of the situation. I couldn't go back to sleep so I am going to go night night now and catch up on my sleep.