I have spent yesterday and today back in the studio. I have had lots of fun and have made a huge mess. It is time to unveil the latest Twelve X Twelve piece. The theme was community. I have really stressed about this, but in the end, I like the piece that I did. It is simple and abstract, but illustrates the theme. It is titled, "Birds of a Feather."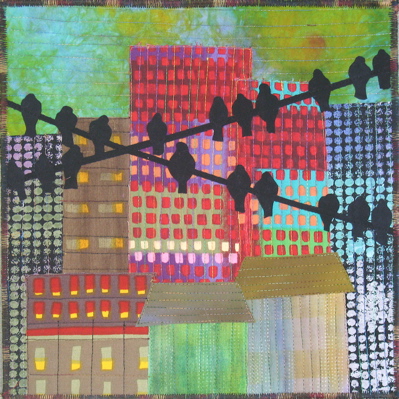 Here is a detail: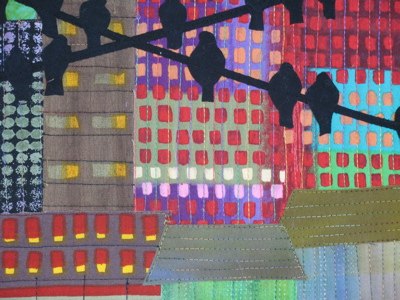 In my research for this, I found several sites on Flickr devoted to birds on a wire. There are thousands of photos. I couldn't decide whether I wanted to do a landscape or a cityscape. In the end, the ability to abstract a cityscape and use some of my commercial geometrics won.
It was also the deadline for submitting jpegs for Virginia Spiegels Collage Mania to benefit the American Cancer Society. The collages go on sale starting May 5th. Here are the ones I submitted. I don't know if they will make the cut or not.
Kimono Collage: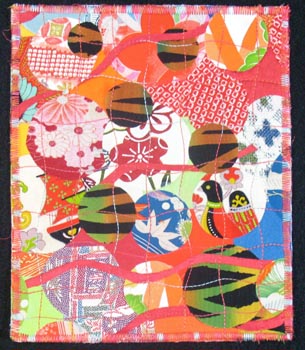 Cherry Blossom Pink: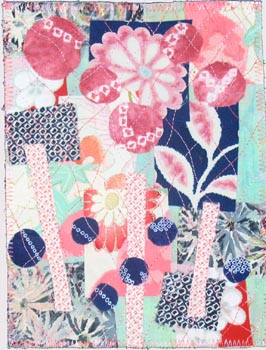 Bamboo Fence: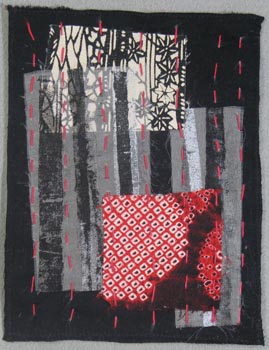 I am exhausted. The house is a disaster. We have no clean clothes. There is no food in the house. We have to take our cars in for inspection and renew the registration tomorrow. I need a good night's sleep so that I can get caught up with my life.