Exhausted and exhilarated, we have arrived at the Sea of Galilee for the next 5 nights! After a long, long plane trip from Portland to New York to London to Tel Aviv, we arrived in Israel. Here are the columns of the airport lobby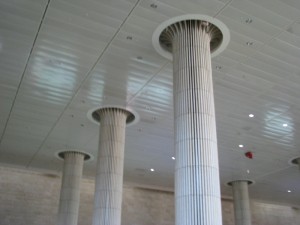 We were to spend the first night in Nentanya on the Mediterranean. We hoped to go to the hotel, get refreshed, have dinner and get some shut-eye. However, it was the Jewish Sabbath and we could not check in to the hotel until after sundown as the Jewish families in our rooms keep Shabbat and do no work until the Sabbath is over – that includes packing suitcases.
So, we took a side trip to the old city of Jaffa. It was very picturesque and we got to stretch out cramped leg muscles, walking around and up and down.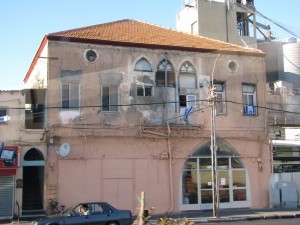 We finally checked in to our rooms and had dinner at 9:30 at night. You can bet that I slept very soundly. In the morning we found this view from our room.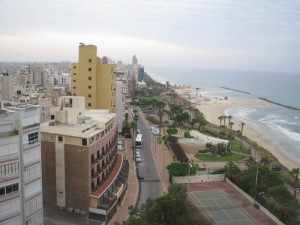 Today we drove up the coast to Caesarea and spent a couple of hours touring the ruins of Herod's former kingdom. There are amazing unearthed artifacts, just sitting there for the touching.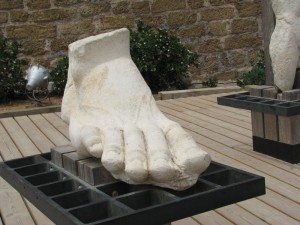 Look at these colors! the Mediterranean was really this color.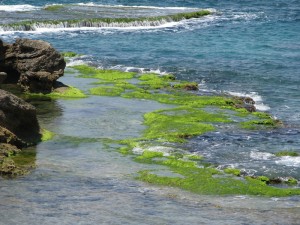 We then drove into the interior of the country to the Sea of Galilee, passing through some amazing sites. We are now at a kibbutz with lots of other tourists. Tomorrow, we are off for more adventures. Mr C is snoring. I think I will join him. Here is a view of the front of our bus. The driver, Ishmael is trying to make us feel at home, I guess.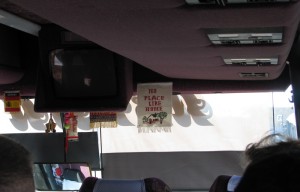 Tomorrow, I will try to get my photos on Flickr. Ta!