I didn't accomplish much on Sunday at the screen printing workshop. It was hot. I was tired. Here are the pieces that I did do and Saturday's pieces after washing. Here are the bubbly scarves. I may have to cut up at least one of these for something else. All photos are clickable.
I used the same freezer paper screen for this deconstructed print. Most of the dye washed out. I used some that was sitting on the shelf, per Judilee's suggestion. I still like it as a background for something.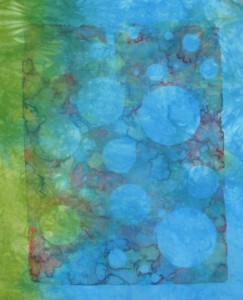 Same problem with the deconstructed screen on organza. The last print I did was pretty good, I did that the second day and maybe my print paste had more soda ash.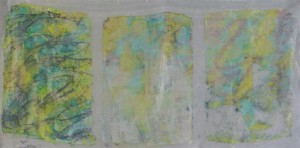 On Sunday, I made a photo emulsion screen of a closeup of birch tree trunks from a photo that my daughter Lisa took. I did two different sizes. Here I have printed it on white cotton with dark gray and brown dye.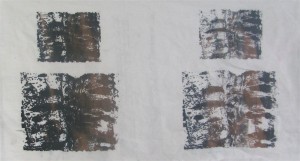 I also did the aspens with the same dyes.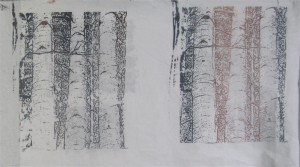 I wanted to use Bordeaux dye on red silk for the pomegranates. I used it to print the trees on gold and it came out brown – I like it.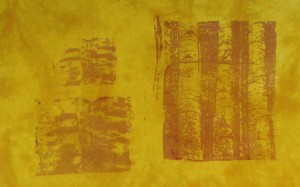 On the organza, it is winy in color, but pretty.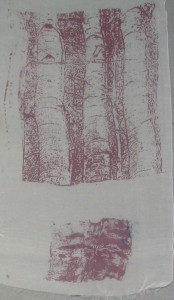 Here are the red silks with the Bordeaux. They are very subtle because the silk does not take a second or more dye like cotton can. It has fewer dye sites.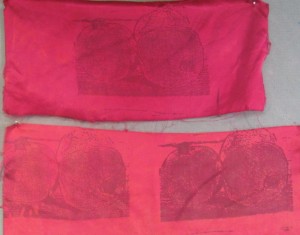 I came home early on Sunday night with the anticipation of going to Terry's house to have dinner with Jane Davila, who was teaching at Sisters last week and in Portland, on her way home. I made a dessert of fresh peaches, vanilla ice cream, balsamic vinegar syrup and toasted almonds. We arrived at Terry's to find out that Jane and her husband were not there as he was not feeling well and they were going to try to get an earlier flight home. I was disappointed, but happy that Terry had prepared a delicious meal which we enjoyed immensely. It was nice to have a home-cooked meal, by some one else. We sat on her lovely patio and enjoyed the evening.
Monday was a very busy day. We had to be downtown at the planning commission at 9 am for a hearing on the property across the street from us. It is a beautiful arts and crafts mansion that Reed College purchased and renovated as a home for their president. He didn't want to live there, so they set it up to be a small conference center and overnight guest house. Wait a minute, we all said. This is a quiet residential lane. We can not have that kind of traffic on our street. If you would like to read more about it, there is an article in the Oregonian. We will not know until September whether we will win this one or not. I had to leave the hearing early to go over to Trinity and help the web gurus work on the new navigation layout for our updated website. that was fun!
In the afternoon, I had my annual oncology doctor's visit – well it is supposed to be annual. I didn't go last year because I consider myself cured!! I was pronounced fine and I promised to come back on time next year. Mr C was so sweet. While he was waiting for me, he was sitting across from a patient a little older than me, with cancer, and her 2 daughters, probably in their 50's. He said they looked so old and tired and sad and when I came bounding out of the doctor's office, I looked 39 years old to him. Wish I felt 39!!
Look at what our friends from Schenectady, NY, sent us!!!! Yum!!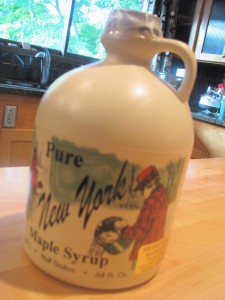 I have probably mentioned that I grew up on a farm in upstate NY. My dad made maple syrup in the spring. One of my jobs was to can the syrup. When I was doing it, we had tin cans. I still have some. Of course they are empty. My dad used to joke that he sold his less desirable syrup to Vermont. I am a maple syrup snob, and so Bill and Joy were happy to indulge me with some real maple syrup.
Enough trivia drivel for today. i may have some nice bathroom photos for you tomorrow.