Where have I been? I have been working in the studio. I finished Urban Sunlight (new name) and I have been playing with a piece I am calling Red Sky. Here is a very preliminary layout that I started with.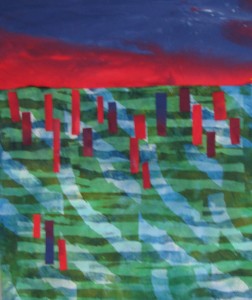 I have actually started the quilting on the final design.
I am feeling soooo much better since I stopped walking the stubborn old lady dog, Maggie. And, guess what? She is happier, too. I thought I was doing her a favor – dragging her on those long walks. Here is something else that I acquired yesterday that I am loving and is helping my body feel better, too.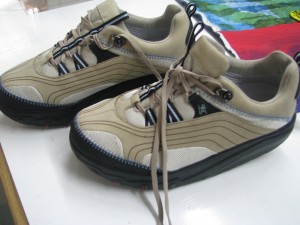 These are BMT shoes. I went to The Walking Store to get new shoes and saw these strange looking and very pricey shoes. They are made to simulate walking barefoot in sand. I think it feels like walking on a trampoline. You cannot lock your knees. You are required to have good posture and you use your muscles more efficiently and put less strain on the joints. I love them. They are pretty funny looking. Here is a LINK if you want to find out more about these shoes.
This is filed under: Show Me Yours and I'll show You Mine. My friend, Terry, recently posted her collection of Political Buttons she found when packing to move to her new home. I have a collection that has moved to several homes with me. I just added a new Obama button to it and I am waiting form my  Obama/Biden to show up soon. the only Republican button I have is Ike. I think he was the last decent Republican president that we have had. You can see that I have a lot of Bill Clinton buttons. It was the first time I actively worked in a campaign. He greatly disappointed me.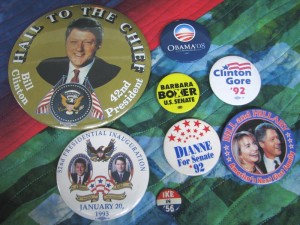 Mr C and I were married on Labor Day Week-end 44 years ago. This year it came so early that our anniversary isn't until next week-end – Friday to be exact. Steph and Jack are going away for the week-end so M & M are going to take us out to dinner on Friday night.
In light of McCain's VP pick, I have been amusing myself coming up with his cabinet, should he get elected (not). Attorney General: Judge Judy; Secretary of State: the very well traveled Paris Hilton – she must know a lot about the world, she is namd after a foreign city! Secretary of Interior – Martha Stewart. Help me finish this!!