The notices from Quilt National came a week early, by e-mail, and took me by surprise. That was a good thing, I think. I didn't have a chance to fret about it. Anyway, I, and many other much more accomplished fiber artists, did not get in.
So, I am going to post my pieces here for all to see. I think QN is the only show that does not allow showing your work except on your own website, before entering. My first piece has been on my blog and website. It is the Global Warming, sometimes, Construction I piece. It is 24″ X 22″.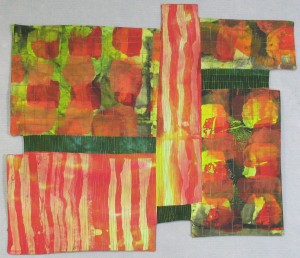 The next piece is one that I have struglled with for months. I like the way it finally came together. I titled it Urban Sunlight as it reminds me of sun streaming down between tall buildings. It is 25′ X 32″.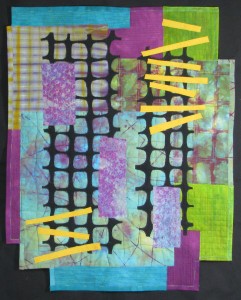 Finally, I made this piece at the last minute. It is titled Red Sky. It is 24″ X 28″.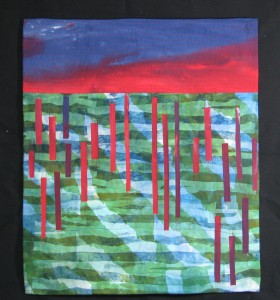 All of these pieces are constructed from fabric that I created through dyeing, discharging and screenprinting.
I am working like crazy on my 12 X 12 challenge piece. It has to be finished tomorrow. The reveal is on Wednesday!!