I finally finished the quilt that I started a while back. Last week when I was sick, I got a lot of the hand stitching finished. I have named it Not So Simple Geometry.
Here is a close-up: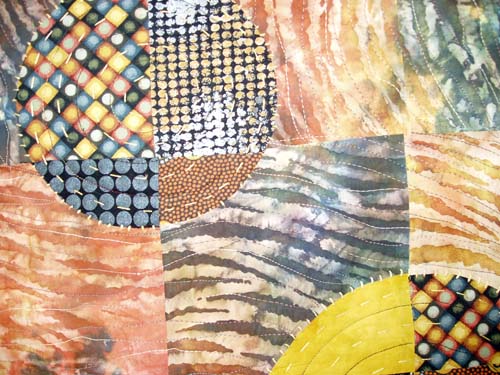 I am quite happy with this as my first experiment in this series I have in my mind. I am planning the next, but also have in mind a quilt using some of the photos I took in Seattle- of reflections in high rises.
Before I do any more quilting, I am finishing the organization of the studio. I finally got the black felt design wall done today. Tomorrow I will work on the screen printing table and the ironing table. I need to hang some quilts and then I will take some photos to share.
Mr. C is finally getting some full spectrum lighting in my office area. As the days get shorter and darker, I will need some better light. Stephanie and I are going to work on a better storage for the kid's toys. We need to weed out some stuff that they have outgrown. I'll be so neat and organized that I won't be able to work for fear of messing it up – Ha!
Now, I am going to go upstairs and watch the much anticipated Studio 60 on Sunset Strip on Mr C's High Def TV.