My regular readers know that I am part of an online challenge group, 12 X 12. It was my turn to select the theme and I chose window. There is some amazing work popping up on our site. Be sure to go over and look through our windows.
In 2003, Mr C and I enjoyed a hiking trip in the Scottish Highlands (where I developed an affinity for single malt!). One of the highlights for us was taking a boat out to Iona where Christianity had it's formation in Scotland. It is a Celtic thin place — a place of spirituality and tranquility. I took this photo which has been in that place in my brain where I store images that are important to me.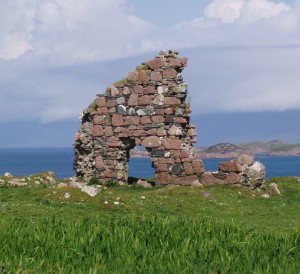 Here is my very literal interpretation – not going abstract this time around. Because of my hectic schedule, I had to take the keep it simple route.
I printed the beautiful, yet wonky stone ruins on lutradur coated with Golden's Digital Ground. You can print more intense photos on lutradur with this coating. I fussy cut the structure and fused it to a background that I created from my hand-dyes and machine stitching. I then thread painted the structure. I love the wonkiness of this and the beautiful angle of the remaining stones.
Come back tomorrow for more shibori.