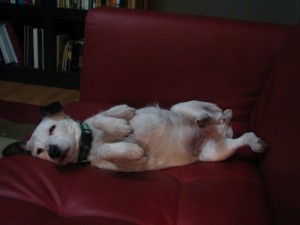 I have not been chilling like Maggie. I have been diligently working on SDA stuff and cleaning my studio. Cleaning my studio was like an archeological dig. I have not done a good cleaning since I finished the quilts for my show and then I have done quite few things since then. I had layers of fabric and paints and pencils and stamps and other interesting things. Every thing is now in its place and it is so serene and inviting in my creative space. I can't wait to get back to work. Yesterday morning, I attended a Columbia FiberArts Guild board meeting.
I finally hung some art in my office space. It makes me happy to see the work of so many friends and my daughter on the walls.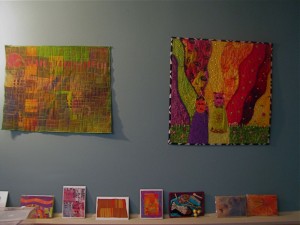 On left is a piece I bought off the design wall from Liz Berg at Empty Spools at Asilomar. On the right is a piece I got back from a Bag of Stuff challenge.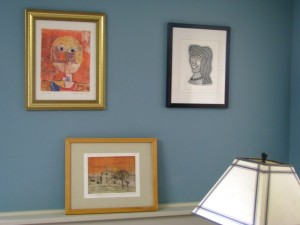 These are from a print class I took in North Carolina. Top left is a monoprint, the other two are etchings.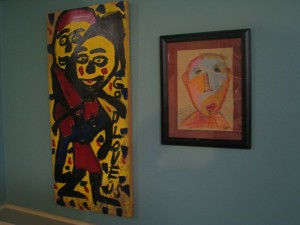 Outsider art. The one on the right is a drawing on lined yellow paper from my SIL and BIL in Florida.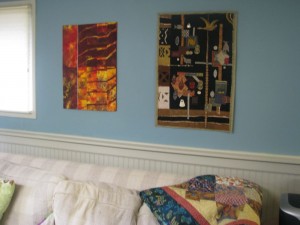 The piece on the left was a gift from Mary Manahan who was a blogging friend back when I started. She no longer blogs, but checks in once in awhile – I miss her. The other piece is by the very talented Rhonda Blasingame. I got this piece in a Quilt Swap. Wasn't I lucky.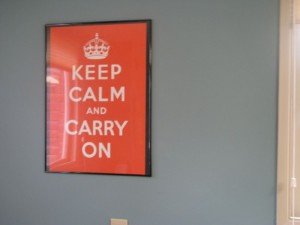 And, my mantra for every day: Keep Calm and Carry On.
Today, I had a dentist appointment for drill and fill. I had a couple of 20 year old fillings in two of my front teeth that were leaking. I was not a happy camper this morning, as I was dreading the ordeal, but it really was not that bad. It is nice to have the metal fillings changed to the new white amalgam.
I have a busy few days coming up. Tomorrow, I am having a birthday lunch for Terry and Linda with the STASH group. I must get up early and cook some good things. On Thursday, Lisa and Clay (her SO) are coming to visit for a few days.