I am tired. I stayed up too late and got up to early to keep up with the latest returns and to cheer for the regime change that is about to occur in our country. We all cheered this morning when we heard that Rumsfield had resigned. My blogging friend, Dee, e-mailed me when it happened and so I was able to let everyone know.
Here are the photos for the day. I forgot to take a photo of my work in progress, but here are a couple of great quilts that were entered in the Crazy eights challenge – it is the 8th year for AQT.
This one is called just Crazy Number Eight.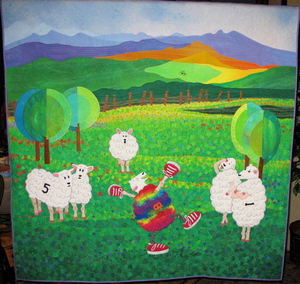 .
This one is titled Eight is Enough – four friends in the Jacuzzi – the boobs are the eight.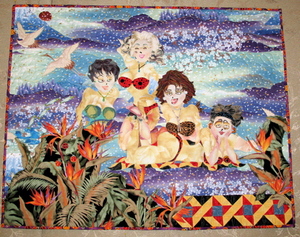 Here is the 2006 T-shirt, designed by Susan Shie: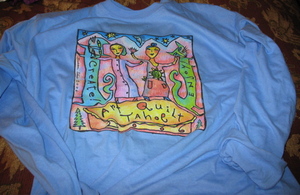 And of course, the dessert du jour: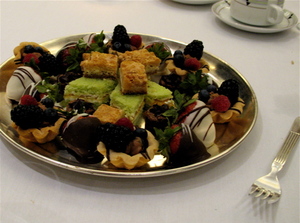 Tomorrow night, Kristin La Flamme and her mom are coming by to take me out to dinner ?¢'Ǩ'Äù I am looking forward to seeing her again. She is coming early to do the walk around of the class rooms. I have not been doing much e-mailing because I have to go online to my Internet mail server and it is a pain. So just know that I appreciate your comments very much, but I am not replying for awhile.