I am a little late posting, but my roomie needed to get some early shut eye for a flight home to Virginia, where she is employed as a rocket scientist. In fact, Hollis Chatelaine had two rocket scientists in her class!!
We had such sad news yesterday. Elizabeth Barton was taken to the hospital early this week with what they thought was asthma brought on by dehydration due to the altitude. Next day they said they were doing more tests. Then we heard that she had a heart attack. Yesterday came word that she has blocked arteries and needs by-pass surgery. She lives in Athens, GA, where here husband is recuperating from surgery so her daughters are trying to get here to be with her. She had been to the doctor in GA and they said she was just tired from taking care of her husband. This is a classic case of the medical community ignoring the signs of heart disease in women. She is skinny and would not appear to be a candidate. They had to punt here at AQT with fill-in teachers.
I had a great dinner with Kristin and her mom. It was nice to have a more intimate setting after several days of dining with all the quilt divas.
OK, you want to see what I have done. Not much!! I had a melt down on Wednesday and totally diverted from my intended design. Here is my design wall. The piece on the right was in my head and needed to be done. I diverted from my trapezoid shape and went with what I feel comfortable doing. Collaging squares. I painted a piece of organza in several colors and cut it up and made the collage on the right. The premise of the class was to pick a shape – come up with several designs, pick one and do some studies and then work the shape in to a larger piece. No one else in the class was doing this. I felt quite out on a limb.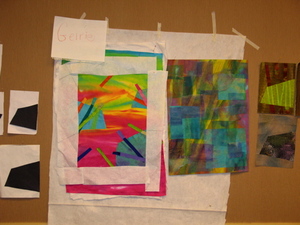 Here is a close up of the collage which will get lots of Perle cotton and machine stitching before it is finished. I call this spring sunshine.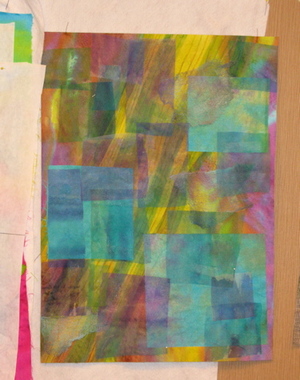 So, Jeannette was disappointed with my diversion and being the goody two shoes student that I am, I pulled out the trapezoids and auditioned new backgrounds for it. I worked up a new design and have cropped it with paper to show the final layout. I am playing with those sticks of fabric. I am not sure what I will use in the final piece. This will be titled Pathway or something similar.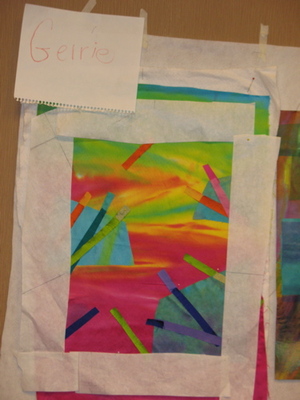 I am glad that I went back to it. The discipline of working through this was very good for me.
Liz Berg has started a new series that involve doors. She has dyed lots of cheesecloth and has used it for these collages. I think they are just wonderful.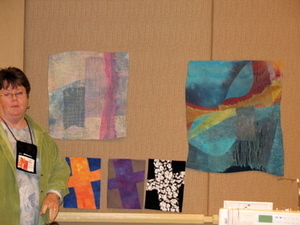 Here is the sunset I saw walking back to my room yesterday;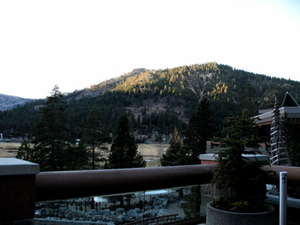 And here is a beautiful reflection of a pine tree in the windows of the hotel.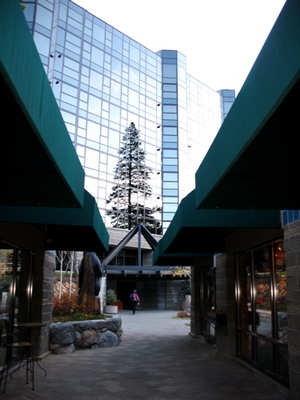 I have my supplies moved to my new classroom with Charlotte Yde – can't wait! I'm spending the day processing the last few days and working on Miles' sweater. Maybe I'll work on those sticks on the Pathway. I will soon have a new roomie, and I am excited to see some Santa Rosa friends here for this next session.