It has been another great day here in rainy Tahoe. We awoke to snow that quickly changed to rain and is still coming down, but who cares when you are happily creating and having fun with like=minded people.
I thought I would show you some of the work hanging in the hotel this session. Here are some of the quilts in the Crazy 8 challenge.
My favorite is this dog with 8 painted toenails: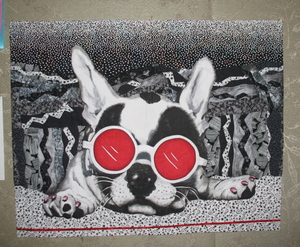 This quilt is exquisitely done with wonderful thread work. It has 8 cacti: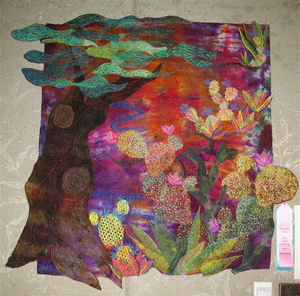 This one is quite contemporary and fun: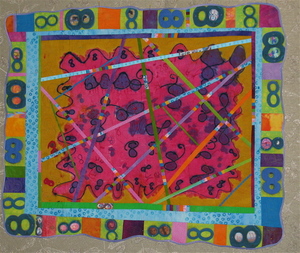 This triptych was done by my friend, Judy Bianchi from Sebastopol. She started it in Charlotte's class last year. It is titled Kyoto Moons I, II ans III.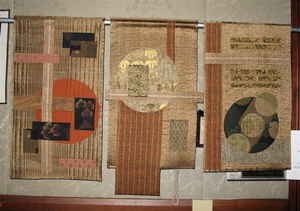 Oh, and look at Anna taking a photo of the dessert. See I am not the only one. Anna is originally from Canada and teaches art education at Sacramento State.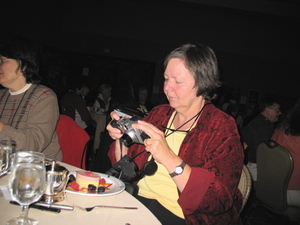 I ave pieced my first work. I will be adding some lime green to the edges of the organza piece.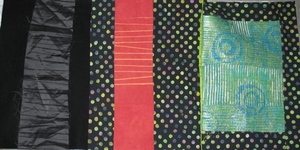 Here is my preliminary layout for work #2.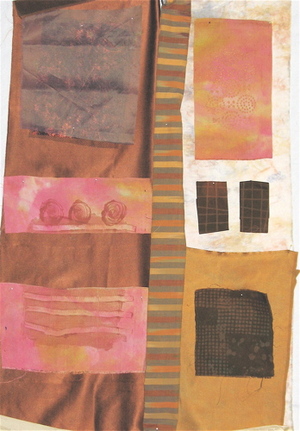 Can't wait to get back to all of this tomorrow.
I wanted to give you an update about Elizabeth Barton. She did not have blocked arteries and was able to get home to Athens a couple of days ago. They are still not sure what the problem is, and she is under her own doctor's care and has her daughter to help her.