I finally did it! I got my studio all organized, and I have no excuses left. I can do surface design and quilt design and even do my morning calisthenics!! I hung quilts on the walls, and it has made it feel so festive.
First, I want to show you the latest additions to my surface design corner. Mr C built two tables for me that are on casters. One is padded and covered with the silver Teflon ironing stuff and that is where I do my ironing and pressing and fusing. The other table is for screen printing. I went to a carpet store and asked if they had any padding remnants for sale. They gave me a very large piece. I cut it to fit the top of the table. It has plastic underneath.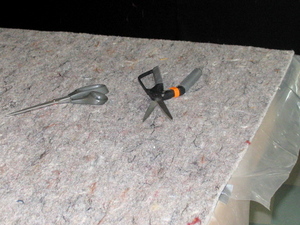 I then added batting and stapled white felt over the top. This makes a great surface for doing screenprinting.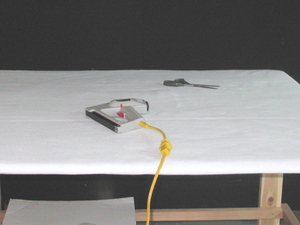 My other acquisition is this rack for drying screens or painted/dyed fabric. I am using the top as storage for some of my supplies. This used to reside in at June's, but since she has turned her garage into a painting studio, there was nor room and not as much need for this. It is also on casters so that it can be rolled around. The racks have aluminum screen to facilitate drying.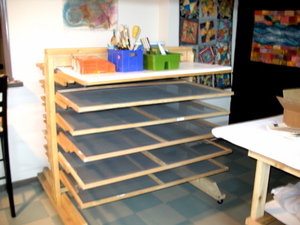 Here are some views of the studio. This is the studio bar, sometimes the art bar for the grandkids. On the other side of the bar is a small kitchenette with a sink and counter and storage for dyes and paints.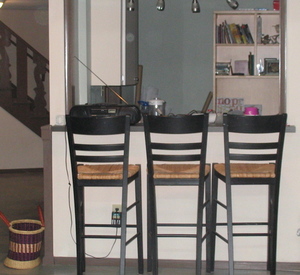 On the left side of the back wall, I have black felt. You can also see the ironing table.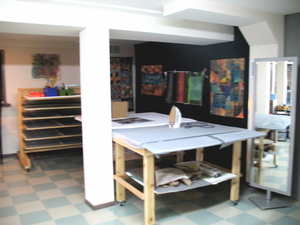 The other side of the back wall has gray felt. This is my main design wall. You can also see my bookshelves which hold my design and inspiration and how to books and journals and magazines.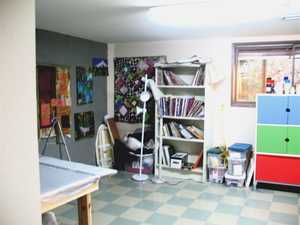 The window wall is my fabric storage wall. I have some IKEA storage units.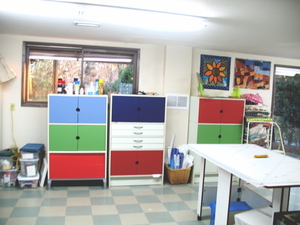 The cabinet on the left hold fabric that reads as a solid sorted by color family. The cabinet next to it has assorted geometrics and polka dots and stripes. The bottom cabinets hold large pieces for backs and pfd silk and cotton waiting to be dyed or painted.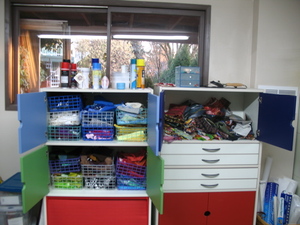 This cabinet has batiks sorted by color family and the storage unit next to it has my exotic silks and unusual fabrics.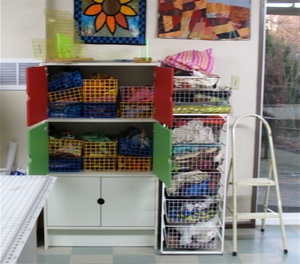 The other window wall has my sewing area.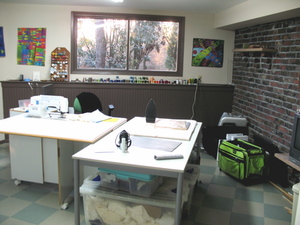 This is a unique feature in my studio. The fireplace with the blazing TV.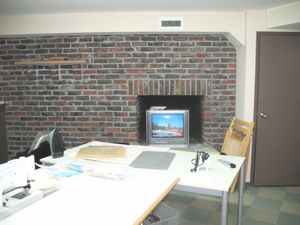 In the center of the room is my cutting table and this colorful storage from Target. I have my hand-dyes stored here, by color family. I also have several small drawer storage units for miscellaneous supplies.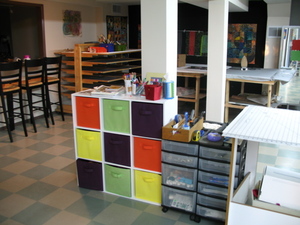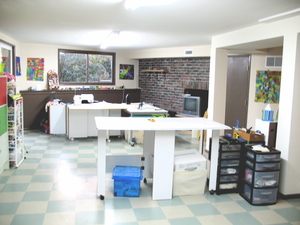 Next door is my office/workspace/grandchildren's playroom. This corner has my computer. This is the most difficult place for me to keep neat.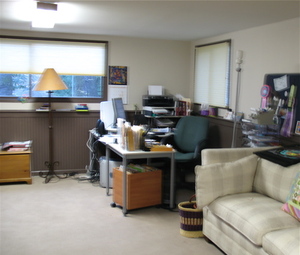 Here is my very comfy sofa where I do handwork. The quilt over it was a gift from Deb Roby.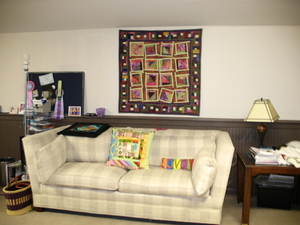 Here is one of my Walls of Fame – art quilts that I have purchased or that were given to me. The credenza holds my Thermofax screen maker on the left and an old Canon Copier on the right. There are several fiber postcards on the wainscot shelf.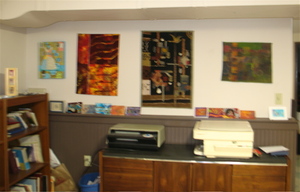 Here is the other Wall of Fame. Below is the grandkids toy storage and the electronic keyboard.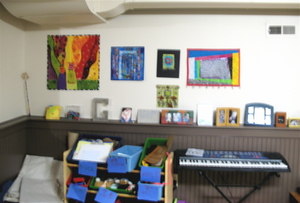 Now, I must get a good night's sleep and get up and go to work in this wonderful place.