I have gotten myself in to the habit working on my art quilts to meet deadlines. One of my goals for the new year is to just do some work every day and try to build up a body of work worthy of entering in shows. I am working on two pieces concurrently. One is the Thin Place quilt which is getting lots of hand stitches. I got quite a bit of work done on that last night as I sat through a High Fiber Diet meeting. I am almost finished with the hand stitching and then I will do a pillowcase backing on it and finish with some machine quilting. I should finish it in a couple of days.
I am also working on the Fragments piece which is requiring a lot more thought and needs some additional elements. Yesterday, I did some fake writing on a piece of paper and scanned it. I then made a thermofax screen. I screenprinted on 3 different fabrics — a brown organza, a metallic gold organza and a commercial silk that I used as part of the background of fragments. The photo was taken on my cutting board which is the grid you see.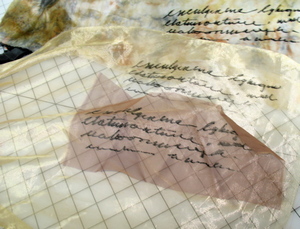 I also did some funky quilting on Fragments. I recently received Dijane Cevaal's quilting motifs book. This was in her book.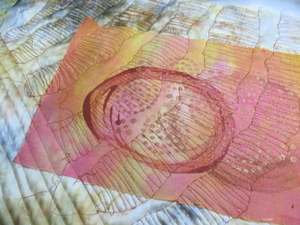 Here is one of the fake handwriting pieces being auditioned on Fragments.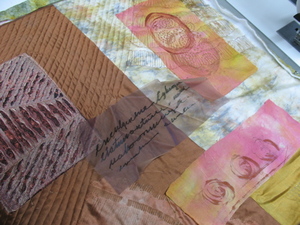 Today, I made coconut chocolate chip oatmeal cookies because M & M were coming by after school. My question of the day is can using whole wheat flour and oatmeal negate two cups of sugar and two sticks of butter? I sent most of them home with them.
I have also been getting a lot of work done cataloging all of my quilts for the website and writing the blurbs and measurements, etc. It is a lot of work. I am also making sure all of the photos are the right number of pixels and cropped.
I am watching the Top Chef Finale, part I. I hope that Elia wins.