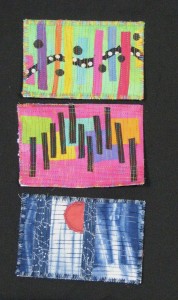 You can't make just one! I had such a busy day — Columbia Fiberarts Guild board meeting at my house; homework, make a delicious soup for supper and theology class tonight. I did manage to get 3 more postcards done. I found a few scraps of indigo and had to divert from my other color palette.
I received some good mail today. Karen Stiehl Osborn made several beautiful small collages which put up for sale to help our friend Beate Knappe with her vet expenses for her dog, Jeannie. I bought this one. It is even better in person.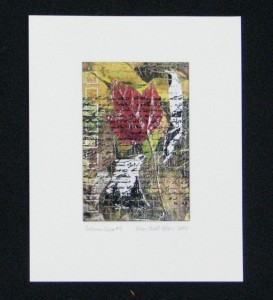 Tomorrow, I am getting my hair cut; but I hope to have time to do the next workshop in the Expressive Drawing book. It involves some obliterating. Sounds like fun.