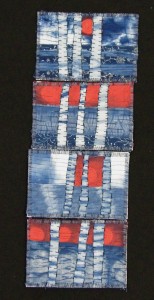 Because, you can't make just one…. I had so much fun today with my indigo scraps. I love all of these. It feels pretty good to use up scraps that really would have no other use. You can click on the photo to see them larger.
I did one more for the colorful silk series, titled Circles.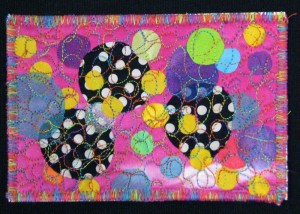 It took a better part of my morning to prepare The Wall of Hopes and Dreams for shipping to Arizona for the Significant Stitches show. Scooter and I walked up to the Westmoreland Kinkos/FedEx store. It was a beautiful brisk and sunny fall day.
This afternoon, I went to see Kevin for a hair cut. I said cut it all off, I am tired of hair. Hed did. Hope I won't regret it. It does grow back.
Look at my adorable pup on his new bed. When we first bought it, he would only lie next to it. Yesterday and today, he has been curled up on it.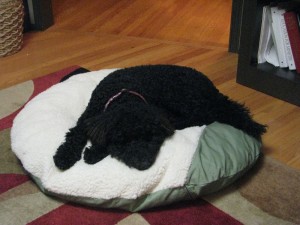 I regret that I did not have time for any drawing exercises, but I will get to it. I have other fish to fry right now.