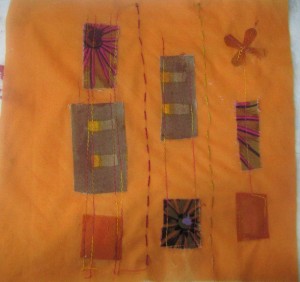 I did not have a good day today – had sort of a relapse with a really bad sinus headache and lethargy. Didn't do much all day except veg and do some grocery shopping. After dinner (maybe it was the wine), I began to feel better.  I went down to the studio, wanting to do something. I was going to do another Expressive Drawing when I remembered something else I wanted to try.
Jason Pollen, who is the recent past president of the Surface Design Association board, in his last letter from the president gave an assignment titled, Create Two Choreographed Collages. Here are his instructions:
Materials
• 2 8-inch squares of light colored fabric
• A few small cloth fragments from your scraps
• 2 spools of contrasting colored thread for hand or machine sewing (spool and bobbin)
• A small quantity of white and black paint (acrylic or latex)
• A smallish brush
• Water and a small container for mixing the paint

Procedure
1. Sit quietly and contemplate the square of fabric and then hand- or machine-stitch two rows from edge to edge. They may or may not cross. The stitched lines may or may not be straight or sinewy.
2. Stitch two or more (not many) of your fabric bits onto this square so that they have some affinity for one another and hum in the space you have given them to dance.
3. Wet the background areas with your brush and water.
4. Paint onto this wet fabric (the background) with the tip of your brush dipped in white or black. Take your time with this and watch how the watery paint responds to capillary action.
5. Now create a second eight-inch square and proceed the same way as before. This time use the paint color you did not use in the first piece. Contrast the mood and atmosphere with the first piece.
6. Iron the pieces when dry.

This exercise is designed to make you smile.
Above, is one of my stitched pieces and here is the other.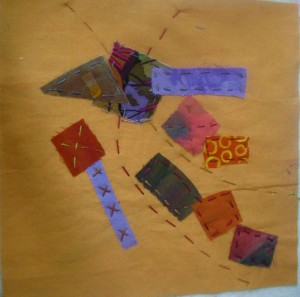 Here they are with paint. I did not have time for them to dry and be ironed. Had to watch Project Runway.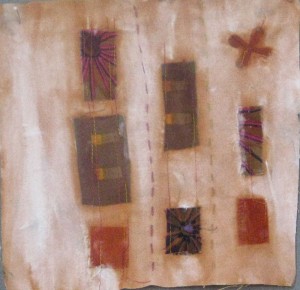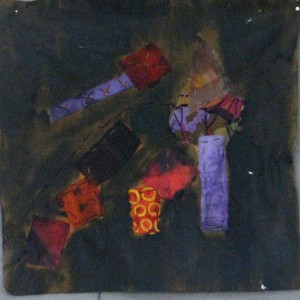 My paint did not really spread on the wet fabric like I expected. Maybe it was the fabric. I love the white painted piece. I am smiling just because I feel better.
I am hoping that I am at the end of whatever has been ailing me. Tomorrow, we will celebrate Milo's 8th birthday and on Sunday, I am taking M & M to see Rumpelstiltskin performed by puppets. I also hope to get to the art show to benefit the Portland Audubon Society, on Saturday. I have a little piece in the auction.