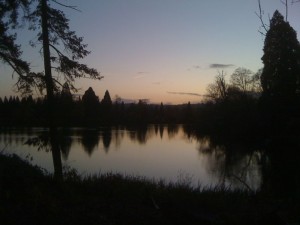 What a surprise it was to have blue skies and sunshine for much of today, here in Portland, Orygun. I love going down to the Rhodie Garden at sunset on a day like this. I can look out over the reservoir to the west hills and see the last bit of sunshine illuminating the sky. All photos in this post were taken with my iPhone.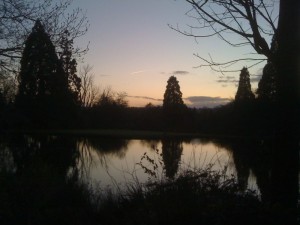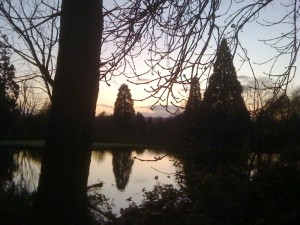 And, look, can you see the moon. We don't often get to see the moon this time of year, so it has to be savored.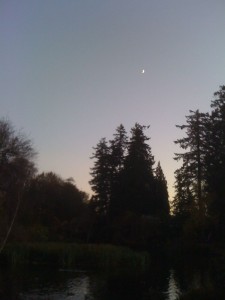 This morning, I got to see our latest art show at the Cathedral. In December, we have a show to benefit an organization, sometimes it is crafts from a third world country. This year it is work by homeless children who are mentored through a program called p:ear.  I was blown away by the work and much of the it is credited to anonymous. I used my iPhone to take some photos, but the gallery lighting really causes a glare.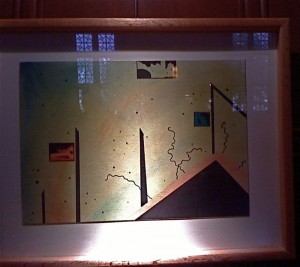 I wanted to buy the piece on the right, but it had a red dot by the time I got to it.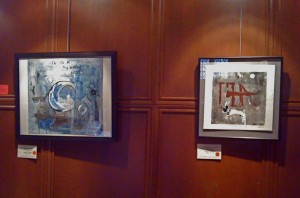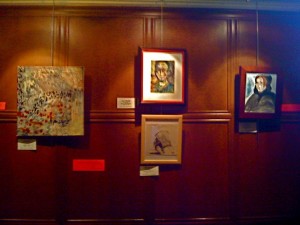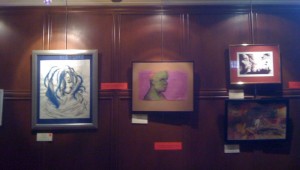 In addition to selling the art, we are collecting art supplies for the program.
It was a jam packed day. This afternoon, we took M & M to see puppet portrayal of Rumpelstiltskin. The script was written by a fellow art's commission friend, Sharon, about 15 years ago, for the puppet theater. We all enjoyed it very much. She had enough bawdy dialogue, to make Mr C and I laugh out loud.
In the lobby of the theater is this huge and strange chair with a sign that says, sit on me. So M & M did.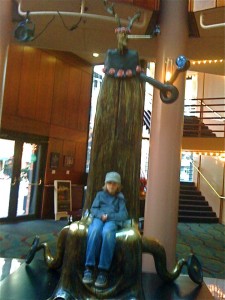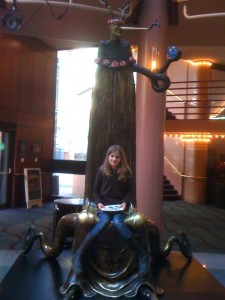 So, my art for today was taking photos and going to the theater. Works for me!!