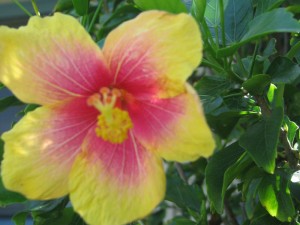 Yesterday was a very long day and I did not sleep well before out flight yesterday. We arrived to wild trade winds and sporadic rain, but it was still balmy. Needless to say, I crashed early and got about 9 hours of sleep. Here is what Oahu looked like as we landed in Honolulu to get our connecting flight to Kauai.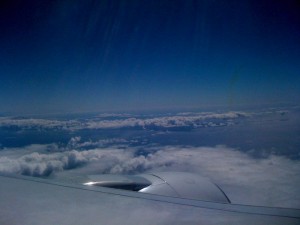 Today was absolutely gorgeous – sunny and in the 70's. The beautiful hibiscus, above, is right outside our door. There are also lots of fragrant Plumerias.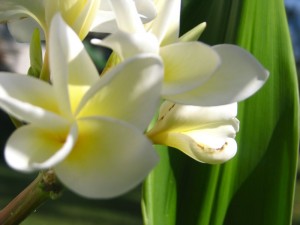 This is the seedpod of the Plumeria – almost as beautiful.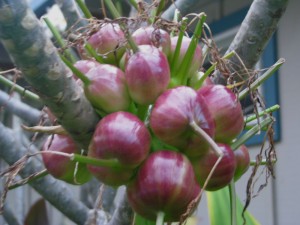 This is our cottage and the view from our little deck.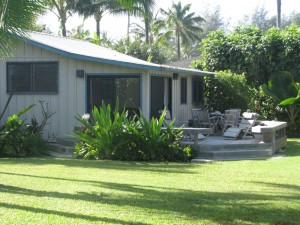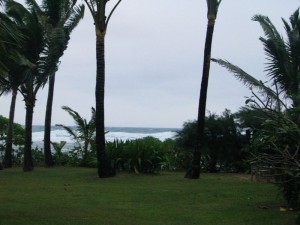 There are 5 cottages here, but only one other cottage is occupied so it is very private and really delightful having this beautiful spot almost to ourselves. The owner, who lives in Berkeley, was here for a few days. She brought us some wonderful small bananas from a tree nearby and also some lemons. The bananas are sort of lemony tasting. I had one with papaya and yogurt for breakfast.
We took a walk on the beach and I found some fun things to photograph.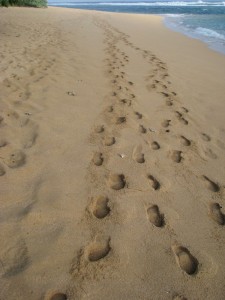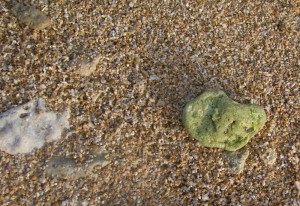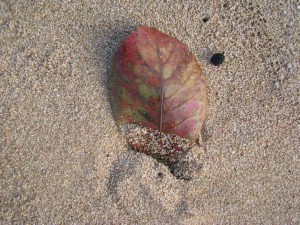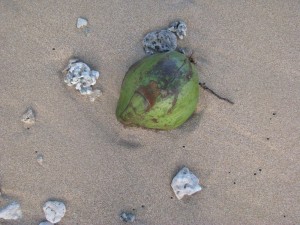 Yes, that is a coconut.
One of the things I love about Hawaii is the variety of trees and other plants that can be seen.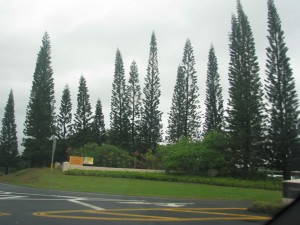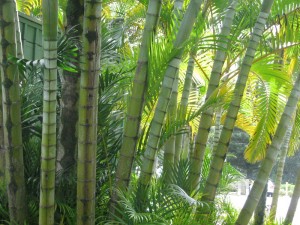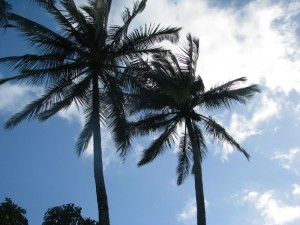 I saw several of these perky Brazilian Cardinals today.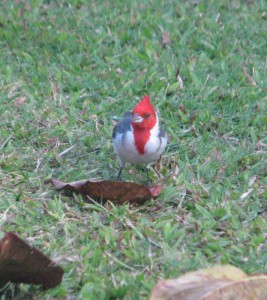 But, I think the official bird of the island is the chicken. They are everywhere!!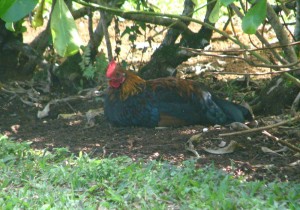 I am feeling so relaxed. I spent a little time in the sun, with lots of sunscreen, I have been reading Pillars of the Earth by Ken Follett and loving it. I have done some stitching on the circle quilt. We had lunch out, but cooked a delicious fresh Ahi tuna for dinner tonight.
Tomorrow is Mr C's official birthday so we are going to a nice restaurant called Postcards. It comes highly recommended by friends.
I am signing off to watch Project Runway. Mr C is snoring on the other sofa. LOL!
If you want to see more of my photos, they are on my Flickr site.