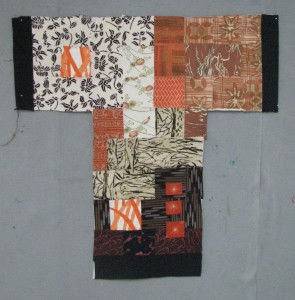 Allergies be gone — I have things to do! I have made it through the day with a little help from my drugs and a saline rinse. We are entertaining 3 other couples for dinner tomorrow night. It is our Sojourner's group from the cathedral. I am cooking the main course; others are bringing appetizer, salad and dessert.
I spent the morning making Ina Garten's version of Julia's Beef Bourguignon. It is rather labor intensive, but so worth it. I prepared it today so that all I have to do is warm it up tomorrow. It is one of those dishes that improves with time. Tomorrow, I will also make au gratin potatoes to accompany it.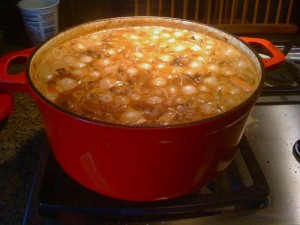 This afternoon, I finally had enough energy to finish the design for Kimono II and got it fused to the batting. This time, I cut the vintage kimono fabric into 4 inch squares. I quite like this one. Here is a detail: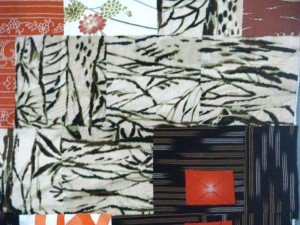 Tomorrow is taken up with house cleaning and dinner prep and on Sunday, M & M arrive for 3 days. They will be in school on Monday and Tuesday, so I will have a window of time to get some more studio work done, like quilting this piece. I might do another of these while I have the fabric spread all over my studio.
It is Friday night and movie time with Mr C. Hope I can stay awake.