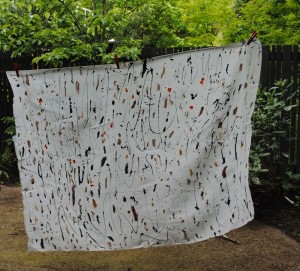 This is silk shantung organza that I have splattered and dribbled with paint. I usually fuse the organza to another layer of plain organza. But for this larger landscape, I think I may fuse it to muslin or white cotton to give a more opaque look.
Here is a detail: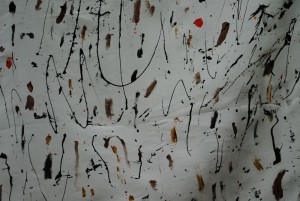 I hope that I didn't overdo the paint, but usually when I cut a strip and then stitch it, it magically becomes a tree.
I pulled out several yellows and yellow-greens which I fused for making aspen leaves.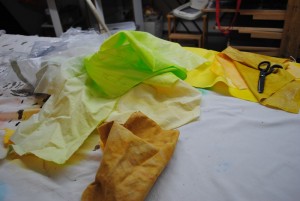 I have leaf shapes printed on freezer paper which will be used as templates for cutting leaves. I have several sizes and shapes.
I would love to go down to my studio and prep some fabric and start cutting. However, we have been out at the opening reception for Artists Among Us. The food was fabulous. I think there were more than 200 people there. Most were the artists and their friends. Not a lot of shopping tonight, but I did sell one scarf. The big shopping day is Sunday, but I think we will get quite a few shoppers tomorrow.
I received many nice compliments on my work. And lots of how do you do that and how long does it take you and is that hand appliqued – (ha ha ha ha)! One lovely young woman, daughter of a member of the parish, came all the way from Walla Walla, just to meet me and see my work. She is a budding art quilter. So lovely to talk to her. Actually, I got most of my thumbs up from the younger people.
Tomorrow morning, we are celebrating Mom's Day with Steph and family. We are going out to brunch since I need to be at the show on Sunday. We have had a sense that warmer weather is on the way. It was sunny most of today. That is making me happy. I am going to start planting the gardens. I hope we had our last freeze last night.
This was also the opening of the Bird's Eye View show. I was sorry to miss that. I hope to get out there next week to see it.