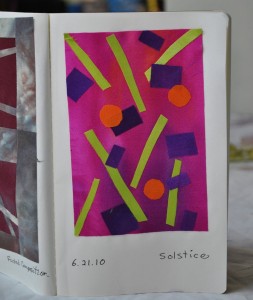 The Solstice has long been my favorite day of the year because it is the day with the most sunlight. Unfortunately, today we only had a little bit of sun in
Portland. I am still wearing layers in my studio.
For the Sketchbook Project, I decided to do an abstract titled Solstice. This is the kind of day I would have loved to have. I think it will happen, soon.
I finished my Twelve by Twelve purple/yellow piece tonight. Here is the back: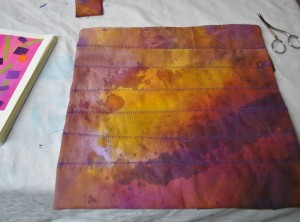 And here is a pretty pile of skinny bits left over.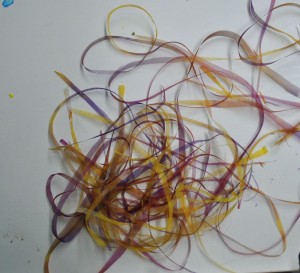 We had a nice Dad's Day party here at the house. Steph brought the makings for a shrimp boil. Shrimp, red potatoes, sausage, corn and onions with Bay Seasoning. Our plan was to serve it low country style – dumping it on newspaper on the table on the deck and then everyone digs in. It was cold and rainy so we served it on a big platter in the dining room with crusty whole grain bread and greens from my garden followed by carrot cake, Mr C's favorite dessert.